FX will kick off its summer comedy slate with a packed night on June 28, starting with back-to-back episodes of Charlie Sheen's new venture "Anger Management," the network said Monday.
Also read: Ratings: Fox Tops With Daytona 500 as "Two and a Half Men" Hits Series Low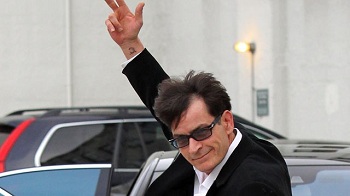 On the same night, Russell Brand's new talk show "Strangely Uplifting" will debut, and the new seasons of "Wilfred" and "Louie" will premiere.
Also read: FX President on Charlie Sheen's "Anger Management": We Like Risks

"Anger Management" will air two new episodes at 9 p.m. and 9:30, after which the show will run Thursdays at 9:30, with the previous week's episode airing at 9 p.m. The adaptation of the Jack Nicholson-Adam Sandler movie stars Sheen as Charlie, a non-traditional therapist who specializes in anger management. Selma Blair, Shawnee Smith, Daniela Bobadilla, Michael Arden and Noureen DeWulf co-star.
Also read: Russell Brand Lands Deals With FX and Fox
Season two of the Elijah Wood comedy "Wilfred" will bow at 10 p.m. with an episode guest-starring Robin Williams, followed by the Season 3 premiere of Louis C.K.'s "Louie" at 10:30.
At 11 p.m., the network will unveil "Strangely Uplifting," featuring Russell Brand offering his rapid-fire take on politics, pop culture, and whatever else crosses his mind. The six-episode season will be filmed in front of a live audience, and marks the first television deal for Brand's production company, Branded Films.