Moviegoers will have a lot to choose from under the big box office tree this Christmas holiday — in fact, they might even have too many choices.
Beginning next weekend with the release of "Mission: Impossible — Ghost Protocol," and sequels to "Alvin and the Chipmunks" and "Sherlock Holmes," an unprecedented number of big studio films will be crowding into the domestic box office at the same time.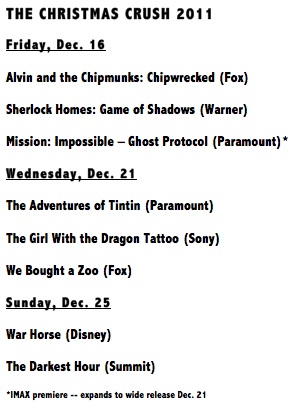 From Dec. 16 through Christmas Day, eight films will be released wide (see chart) – including two by Steven Spielberg – while about a half-dozen specialty titles will either enter the market or expand their footprint.
The major studios will be packing in these expensive films at a time when business has been weak, with box office revenue down 4 percent year-to-year and attendance plunging 5 percent, according to Hollywood.com's Paul Dergarabedian.
This weekend the box office had its worst performance since September, 2008. Which begs the question: Is there enough audience for all these films?
"It's a crowded marketplace, and [studios] are banking on audiences being there," said Nikki Rocco, president of distribution for Universal Pictures. "We'll see what the market can bear."
"I have never seen so many movies going at the same weekend, ever," another distribution executive told TheWrap. "Sometimes there's four and five movies. Six is an awful lot. But six of this caliber — and at least most of them are high-caliber — it's insane."
The box office will go into overdrive starting Wednesday Dec. 21, with the openings of "The Adventures of Tintin," "The Girl With the Dragon Tattoo" and "We Bought a Zoo." This holiday crush will be punctuated on Christmas Day, when DreamWorks opens Steven Spielberg's "War Horse."
Summit is also opening the sci-fi thriller "The Darkest Hour" wide that same week.
And the debuts of anticipated adult dramas "Extremely Loud & Incredibly Close" and "Albert Nobbs" will only crowd the market further.
With the domestic market currently hovering at around $9.56 billion, the film industry will have to gross an additional $1 billion in the next few weeks just to match the $10.57 billion it took in last year.
These big movies certainly seem capable of moving the needle in that direction.
Also read: Scorsese's 'Hugo' Faces Tough Road to Profitability After Soft Opening
But many of the movies opening on Christmas weekend look to be in competition for the same audience. Several distribution executives worried that the Christmas weekend could pan out like Thanksgiving holiday, when family films "Arthur Christmas," "Hugo" and "The Muppets" all competed for the same audience.
"Arthur Christmas" and "Hugo" both bombed in their domestic openings, though "Arthur Christmas" has grossed $57.5 million internationally.
Also, compare this year's Christmas week frame to last year's, when Universal's "Little Fockers" opened to a moderate $45.1 million while premiering wide alongside Paramount's "True Grit" and Fox's "Gulliver's Travels."
Despite a relatively light release schedule, 2010's two-week holiday period featured notable bombs, with not only "Gulliver's Travels" underperforming, but also James L. Brooks comedy "How Do You Know?"
With Christmas week a traditionally big week for moviegoing, studio executives insist the market can handle this year's cinematic bounty.
"Every day is a Saturday night between Christmas and New Year's," a distribution executive told TheWrap, explaining that people have time off from work, kids are out of school, and it's cold in much of the country. "Every day is off, and the theaters get jam-packed."
Another distribution executive said that the Christmastime period typically features "10 to 15 of the most prolific grossing days of the year."
Also read: Calm Before the Storm: 'New Year's Eve' Set to Lead Quiet Pre-Holiday Box Office
That executive said that beginning Christmas Day, "business just starts pouring into theaters, and that runs all the way to New Year's Eve — and on New Year's Eve, they're there until about 6, 7 o'clock at night. And then New Years Day, they explode again."
Filmmakers like Steven Spielberg, who has two features entering the market at the same time with "The Adventures of Tintin" and "War Horse," better hope this is true.
Individual studios will also be quite extended. Paramount, for example, is opening "Tintin" and "Mission: Impossible" over the holiday period. And a week earlier, the studio plans to expand the number of theaters showing its Charlize Theron dramedy "Young Adult" to around 1,000.
"One studio usually doesn't have three wide releases at the same time," said a rival executive.
Another distribution executive said that while the movies opening over the Christmas holiday have one thing in common — they're big — they have different release strategies and audience targets.
Also read: Can Steven Spielberg's 'Tintin' Save Motion-Capture Animation?
"'War Horse' is one example and 'Sherlock Holmes' is the other," the executive said. "'War Horse' is going in for the long run. They're going in because they know their audience — that audience is probably a little more intelligent, a little more patient and a little older and is going to enjoy movies throughout the entire holiday."
"Sherlock Holmes," the executive predicted, will probably have a big first weekend and then see its numbers drop substantially.
Academy Award aspirations also factor into the decision to enter the crowded fray.
A studio executive noted that last year's "True Grit" debuted to $24.8 million over the holiday — and went on to gross $171 million domestically, largely on the strength of its Oscar buzz.
"You look at 'Dragon Tattoo,' you know that's going to do business," he said.
He added, however, that not everyone will end the year happy.
"There are going to be some casualties of war," the executive said.