Welcome to the jungle … of the Coachella side-party scene.
The choicest place to be on the weekends of April 15-17 and 22-24 is the festival itself.
However, thousands of people who never made it past the online ticket waiting room before wristbands sold out, and even some with access to Guns N' Roses, LCD Soundsystem, Calvin Harris, Sia, Ice Cube, Chainsmokers, Jack U, Halsey, James Bay and most excitingly — new real bathrooms — still can't resist the allure of massive mansions, cool pool parties and open bars littered with social media stars and varying levels of celebrity clout spreading east from Palm Springs, California.
An array of fashion, nightclub, spirit and media brands will make the most of the mass influx of musicians, gatekeepers, tastemakers and celebrity fans partake in the swanky brand-sponsored scene against an idyllic desert backdrop near Indio.
Here's the best of the social scene in the desert for the first milestone weekends of the 2016 summer season.
Getting to the Festival … in First Class
Whoever is the first to "disrupt" the Coachella departure procedure with a high-priced rescue helicopter extraction direct from the festival grounds will win. So far, nobody is doing it. Instead, all but a few elites face a multi-hour march through fencing to Ubers or dusty parking lots. Here's who's coming the closest to the smoothest exit (and entrance). Unfortunately, from "let's go home" to "getting out of the grounds" has taken this writer up to two hours in the past. So far, there is no service to airlift guests in or out of the polo grounds.
Blade Helicopters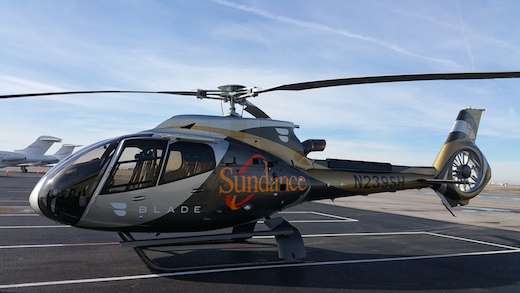 The so-called "Uber for Helicopters" has joined forces with the actual Uber to offer a chopper ride from the Van Nuys Airport near Los Angeles to a landing zone near the festival. For a group of six, it's running at $4,170, or $695 per person. They are promoting it as "L.A. to the festival in under one hour."
Also Read: Neon Carnival at Coachella: The Inside Story Behind Hollywood's Biggest Party
Surf Air
The eight-seat, monthly-membership air service popular with Silicon Beach and Silicon Valley commuters adds routes for the first festival weekend. It's a 25-minute flight from Hawthorne to Palm Springs, a day-saver during rush hours but suboptimal on both ends otherwise.
Also Read: SXSW Party Report: Jake Gyllenhaal, Lil Wayne, Kate Bosworth Join Barack Obama in Austin (Photos)
Parties:
There are no official "Coachella parties." The only officially-sanctioned event out there is the festival itself.
Overall, the array of side parties shrinks for the second consecutive year, from a high in 2014. For an example of the shift to the festival itself, in the past two years official festival partner H&M has gone from hosting a private David Beckham-attended concert with Major Lazer off-site to investing instead in their pop-up shop at the grounds touting their official branded Coachella clothing line. Elsewhere in fashion, the once multi-thousand person Lacoste series of pool parties discontinued two years ago. The gator brand is now sponsoring things like a live theater event on a tennis court at the Sheets Goldstein mansion in L.A. earlier in April.
After a few years running a pop-up of Soho House, the private membership club is not coming back this year either. Of all those who soldier on, here are the smart, social and industry-friendly events that will be inducing guest-list anxiety over the next few weeks.
The Glamour Invites
Jeremy Scott's Party
Saturday night, April 16
"Beautiful Big Spot" Near Indio
After years at the Sinatra mansion in Palm Springs, the fashion star is moving his A-list party "closer to the festival than I've ever done," he recently told The Party Report.
"I got tired of the police coming and turning down the music and having to keep it on the low side," Scott continued. "So now I can kind of do a full on rock concert basically until 6 in the morning. Which is what it's all about. It's about the music. So I hate to hide my light under a bushel."
Invites are hard to come by and even then, there will be a throng outside the door, trying to schmooze late night with the likes of Diplo and Skrillex (above).
Nearly a month before his bash, the Jack U duo "already know [all the details]," Scott assured the Party Report.
Loophole alert: Fashion outsiders (and just plain old regular outsiders) can apply to be handpicked by party hosts to attend this bash. Absolut vodka's tinder-style party app Hoppr by Absolut holds the key. After linking in their Facebook profile and swiping right to self-nominate for an invite, party organizers have committed to reaching beyond their list to select at least a few wannabes to join in what is the Vanity Fair Oscar party of Coachella weekend.  They are doing this with Nylon's bash on Friday night too. Get to swiping.
*Shhh…Do Not Disturb* – The Retreat
Friday-Sunday
Korakia Pensione, Palm Springs
This is not a retreat. It's an all out quit on festival madness, fit for a princess. (Queen Elizabeth II's granddaughter Princess Eugenie accepted a room at the Retreat last year.)
This Moroccan boutique hideaway has drawn superlative pull quotes like "sexiest hotel," with pools, fire pits, and hushed scenes like those above to back it up. A group of big media brands are taking over the entire property for the weekend this year, dialing back the decibels to chill mode for a hand-picked group to roam the 28-room property.
Organizers are handing out rooms to a few actors and musicians. Inside, there's a Vanity Fair portrait studio, Amazon-branded screenings, and facials and massages alongside music performances. For those celebs and royals who want to hide so far — literally and figuratively — from the festival scene in this cozy enclave, I'm not sure why they wouldn't do this in mid-February (Valentine's Day) rather than mid-April (Coachella).
Suki Waterhouse hosts a weekend warmup party here on Friday with Amazon promoting their new live daily show, "Style Code Live".
*Social Media Sleepaway Camp* The Foray Desert Getaway
Thursday-Sunday
Bougainvillea Estate
Kaitlynn Carter (founder of the blogger collective "The Foray") packs the house that was the subject of a 2015 New York Times festival profile with top fashion social media personalities, going for social influence over celebrities.
Many are bunking up in the mansion, bringing a reach equal to primetime network TV (6.74 million) under one roof. Houseguests include @Jessimalay, @rocky_barnes, @blank_itinerary, @evelina, @littleblackboots, and @aldensteimle. Major Lazer's Jilionaire will spin one of the parties.
Also Read: Kanye West Gets Ripped by Deadmau5 for Using Piracy Sites
Industry-Heavy Big Bashes
Nylon Magazine's Midnight Garden
Friday night, April 15
Bermuda Dunes
The fashion monthly throws more intimate dinner and cocktail parties in L.A. But at Coachella, they take over a house, and not the same one as last year. Before the Dream hotel comes to Hollywood later this year, they are doing VIP transportation to the property where regular guests will navigate the obstacles of a shuttle situation. We hear this party is very intimate and tight-listed, around 250 people total.
For those that are not on empty by Sunday morning, NYC duo Lion Babe will provide the soundtrack for a pool party/recovery brunch at noon. All weekend, there are lots of partners on this house, like Heineken, Umami Burger, LA hotspot Blind Dragon, and even a TV show, the forthcoming Freeform (f.k.a. ABC Family) show "Dead of Summer".)
Revolve Desert House 
Saturday April 16, Sunday April 17
Estate Near the Polo Grounds
Last year, online fashion retailer Revolve took Amazon steroids to offer same-day clothing delivery throughout the Coachella Valley. This year, they're flexing again. Their two-day pool party and food truck jamboree near the festival will have a guestlist in the four figures. Veterans will recognize the grounds from previous daytime festivities, but invitees won't get the address to plug into their Uber apps until the day before.
Levi's and Re/Done Present Neon Carnival
Saturday night, April 16
Tradition Aviation, Thermal, CA
For full details on Brent Bolthouse's glowing oasis in the middle of nowhere, click here.
Also Read: Neon Carnival Sets Date for 2016 (Exclusive)
 Palm Springs Events
Within L.A., people dread crossing the 405, extracting themselves from Venice to go for drinks downtown. These same people have desert amnesia. Party-hopping between Palm Springs and the festival, bridging 26 miles of potentially apocalyptic traffic, somehow seems palatable.
POPSUGAR Cabana Club 2016
Friday-Saturday, First Weekend
In a few years, Hannah Bronfman has evolved from NYC social scene dazzler to nationally televised sneaker pitchwoman. She has a year-long deal with Lisa Sugar's site that includes the docufollow video series "Hannahgram," so spinning their kick-off party — Emily Ratajkowski is a "host" — is a home game for her. They will be back at it again on Saturday with their second CFDA brunch honoring Vogue Fashion Fund winner Jonathan Simkhai.
The Music Lounge
Friday-Sunday
Ingleside Inn, Palm Springs (200 W Ramon Rd, Palm Springs)
BMF, the music festival guys, are planning a weekend full of events from Friday night through Sunday. The city of Las Vegas has teamed up with them in Palm Springs to promote SoCal's other favorite weekend getaway to the other desert – Nevada. Saturday afternoon's party is all Vegas themed. Up for "biggest hustle" of the weekend, the aforementioned Bronfman will DJ here Saturday afternoon. Diadora is doling out fashionable new kicks (like a palm tree and leather style) to VIP guests on site, a smart move after most shoes get trashed in an hour on the dusty polo fields. Parties continue on Sunday afteroon.
The L.A. Nightclubs
1Oak and Up&Down
Friday, April 15 and Saturday, April 16
Bermuda Dunes
On a recent Thursday night under the direction of designer Cedric Benaroch and Shane Powers, this columnist counted a 37-to-1 male ratio at the "club club" on Sunset Blvd. in Hollywood. They will export that to the desert on opening weekend.
Bootsy Bellows Estate
Saturday, April 16, 2-6 p.m.
Rancho Mirage
The logical John Terzian and h.wood group do smart things like mailing out wristbands to invitees in advance. They also have long coattails in the talent world, which means you party next to guests (like Leo) who were not paid to be there. For several years in a row, they continue to win the "odd bedfellows" award with a throng of beautiful people at a pool party paid for (in part) by McDonalds.
Ticket or Open to the Public Parties
Day Club Palm Springs (Both Weekends)
Hilton Hotel in Palm Springs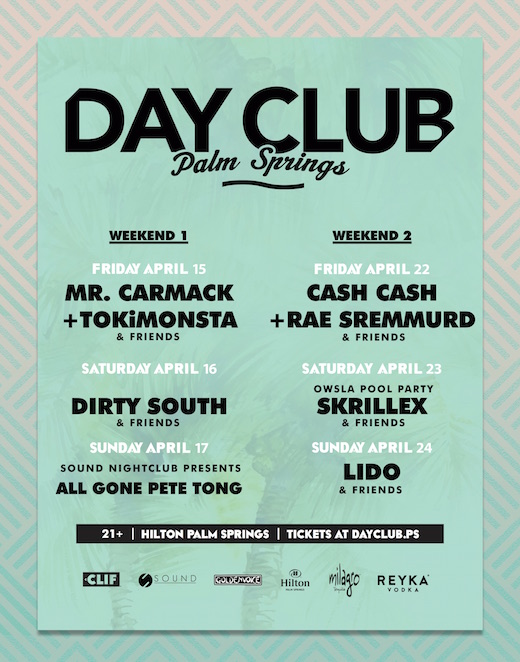 For those without tickets to the main event or cash, this is the best deal. $50 weekend passes to the Goldenvoice sanctioned event include some of the same performers playing the polo grounds. Skrillex is the biggest act to play the six-day series, playing an "OWLSA Pool Party" on the Saturday of the second weekend. Female L.A.-based producer Tokimonsta plays the actual festival and this party on Friday, April 15. Other highlights include Pete Tong, Dirty South and Cash Cash.
Pandora Indio Invasion
Saturday, April 16, 1-4pm.
Cree Estate (67698 Carey Road, Cathedral City)

Open bar, Open RSVP. Just RSVP.
If you're 100 percent No-Chella (no tickets, no list hookups, no plan), head here to listen to a Walk the Moon DJ set. This is like a paperless post invite to your neighbor's house party, albeit if it was sponsored by a phone company and a music service that just deleted its CEO from all playlists.
Also Read: Struggling Pandora Restores Founder Tim Westergren as CEO
More details on the big musical weekends in the desert to come …
Please send additional event info, bookings, and invites to TheWrap's Party Report columnist Mikey Glazer here.