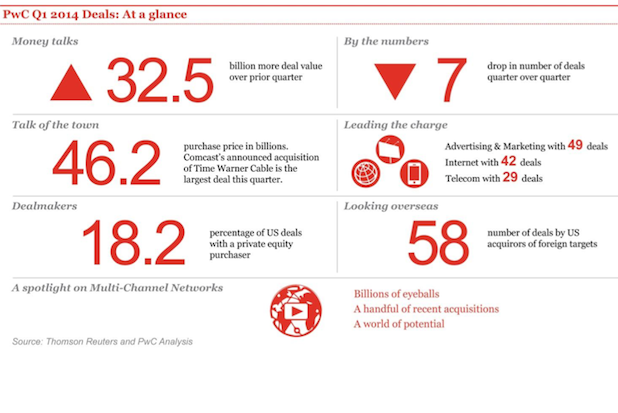 Welcome to the year of the megadeal: Comcast's proposed acquisition of Time Warner Cable for $45 billion helped to increase the value of deals in this most recent quarter by $33 billion relative to a year ago, according to a recent study by PricewaterhouseCoopers.
The volume of dealmaking did not change over the course of a year; in fact, it dropped a bit. Yet the average size of those deals grew by 80 percent, as the 209 deals announced in the first three months of this year were valued at $74 billion (compared to $41 billion to start last year).
PwC's Bart Spiegel attributed this growth to four "megadeals" – the Comcast-TWC pact, Facebook's $19 million deal for WhatsApp, Lenovo's acquisition of Motorola Mobility and Media General's acquisition of LIN Media. The first two are the really massive deals in this quarter, and Spiegel told TheWrap that they portend many more in the year to come.
Also read: Comcast Blasts Netflix Over Opposition to Time Warner Cable Merger
Both more traditional media companies like Comcast and newer behemoths like Facebook are spending at a rapid clip to establish dominance in many areas for years to come. New blockbusters, like AT&T's reported purchase of DirecTV, should be announced within the quarter.
"As some of these established media companies look to position themselves in the digital value chain, you will see them evaluation all the opportunities out there to improve their portfolio of assets," Spiegel, PwC's entertainment, media & communications deals partner, said.
While the cable and technology sectors may produce the largest deals – TV is the most lucrative industry in media – Spiegel also noted growing interest in companies that make hit shows.
The pipes that deliver a show or an advertisement are only worth something if there are shows people want to watch. Belief in the power of content explain the flurry of deals for multi-channel networks like Maker Studios and production companies like All3Media.
MCNs are making shows that appeal to a young audience and are popular on mobile devices, a platform of increasing importance for all media companies.
"Buyers out there are trying to make sure they've got access to content as people are consuming video on digital platforms," Spiegel said.