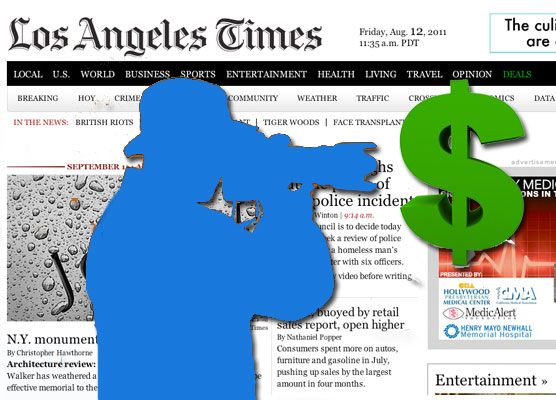 Photographer David Strick lost the first round in his copyright case against the Los Angeles Times, when a federal judge ordered arbitration this week.
Strick's movie-set photos were featured in the Times for nearly three years, until the paper opted not to renew his contract in 2010.
He sued the paper last May, claiming it continued to use his behind-the-scenes shots without his permission and cited more than 500 copyright violations. Strick is asking for damages that could amount to millions of dollars.
The Times maintains that it used the photographs as part of a licensing agreement it had with Strick.
Also read: L.A. Times Sued by David Strick Over Photo Copyright (Exclusive)
Attorneys for Strick were pushing for a jury trial, because arbitration could limit the amount the Times would pay if it loses. Though the Times is still liable for the same amount in damages, there is a perception that corporations tend to fare better in mediation than they do in front of a jury.
However, U.S. District Judge Consuelo B. Marshall has sided with the paper by pushing the matter out of the trial process.
"We really can't comment until we see the written ruling," Karen Moskowitz, an attorney for Strick, told The Wrap.
Attorneys for the Times praised Judge Marshall's decision.
"We think Judge Marshall was correct in her ruling, and we think that the lawsuit should never have been filed in federal court to begin with," Kelli Sager, an attorney for the paper, told TheWrap.
Strick now must either now accept the arbitration, agree to a settlement or appeal Marshall's ruling.
One key element of Marshall's ruling will be whether she requires arbitration between just the Times and Strick or if she will extend mediation to include the Tribune Company.
In a motion asking the court to deny the Times' arbitration request, Strick's lawyers requested that if arbitration is required, the court allow him to continue with his legal case against parent company Tribune.
Strick maintains that not only did the Times use his photos without his consent, but that they also appeared in other Tribune owned properties.