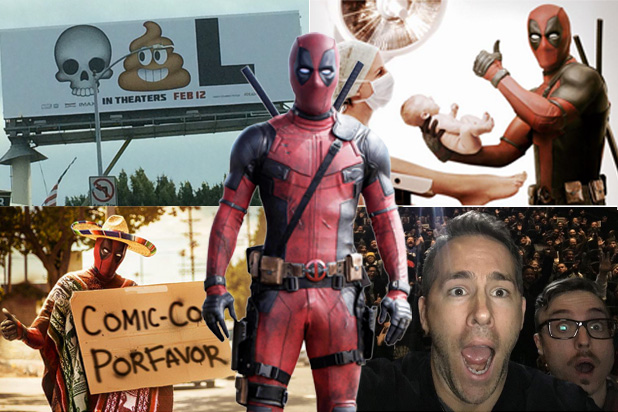 Ryan Reynolds' "Deadpool" is shaping up to be a hit far more massive than just about anyone might have guessed.
Fox's marketing team has taken a risky property — a hard R-rated movie about a foul-mouthed Marvel character who's as much antihero as superhero — and taken the box office tracking for its opening weekend from $35 million to $65 million.
How did they do it? For starters, experts said, the studio had a clear understanding of the character's fan base. "Deadpool as a property had a huge built-in audience, and they targeted that audience," Joshua Belhumeur, a partner at BRINK, a marketing firm that worked on the promotion for "Springbreakers," told TheWrap. Representatives for Fox declined to talk about the marketing strategy in advance of the movie's release.
More riskily, the studio didn't try to tone down the rougher aspects of the character. "They didn't water it down, they didn't appeal to a mass audience, they said, 'We are going to give those people exactly what they want,' all of them capturing the essence of the character," Belhumeur said.
Also Read: Why 'Deadpool's Prostitute Love Interest is More Heroic and Subversive Than He Is
The studio also cranked out an enormous amount of promotional content, including trailers and posters and unique video content disseminated on social-media platforms — much of it reinforcing the character's raunchy charm, both to satisfy core fans and to clearly set expectations for newcomers.
Reynolds himself was a huge champion of the film, which helped in raising awareness. "He was really interested in getting the film green lit," said Belhumeur. "He played Deadpool in 'X-Men Origins: Wolverine,' but everyone was really disappointed because they didn't stay true to the character. But this time, his authenticity and the passion for the role really took it to the next level."
According to experts, the "Deadpool" team crushed marketing boundaries previously only tested by "Guardians of the Galaxy," another Marvel property that did not have widespread mainstream awareness and that relied on a quick-witted leading man and a quirkier sensibility.
"Everyone knew 'Guardians' was a Marvel movie once the ad campaign began, and infusing classic music alongside a different brand of humor was something that Marvel hadn't done on that scale before. Fox is doing something similarly fresh with 'Deadpool,' but taking it to a different level as an R-rated film," Shawn Robbins, senior analyst at BoxOffice.com, told TheWrap.
"All the videos and posters and content hit on all the right points, and the attitude and the content itself was exactly what the fan base wanted to see," added Belhumeur.
Also Read: Critics Love 'Deadpool': 7 Reasons They Think You Should See It
See below for the complete chronicle of "Deadpool's" marketing efforts that helped set the stage for what looks to be an impressive opening weekend at the box office.
1. Leaked Footage
In July 2014, before the movie even went into production, leaked footage appeared online that showed a CGI version of Deadpool featuring the voice of Ryan Reynolds. Despite Fox's efforts to take the footage down, the clip went viral. In September, Fox announced "Deadpool's" release date of Feb. 12, 2016.
On Tuesday, Reynolds appeared on "The Tonight Show Starring Jimmy Fallon" and said he's "70 percent sure" he wasn't the one who leaked the footage almost two years ago.
2. First Official Image
On March 27, 2015, Reynolds tweeted out the first image of Deadpool, sprawled in front of a cracking fireplace. The caption read, "With great power, comes great irresponsibility. #deadpool #officialsuit @deadpoolmovie."
Also Read: Can Ryan Reynolds' 'Deadpool' Dominate 'Zoolander 2,' 'How to Be Single' at Box Office?
3. The Storm of Posters and Promo Pictures
"Deadpool's" marketing team has been cranking out content since the first image was released, and it's safe to say that the promotional photos and posters started with Deadpool's Mother's Day photo. On May 10, Reynolds tweeted an image of Deadpool holding a baby with the caption, "#Deadpool: A motherf-cker since 1991. #Happymamasday."
On Thanksgiving, Deadpool had a seductive message for fans, tweeting "I forget. Is a turducken stuffed with three additional meats, or four? Happy Thanksgiving," accompanied by Deadpool sprawled across a Thanksgiving dinner table.
On Dec. 1, Fox tweeted out an international poster showing off Deadpool's "worthwhile assets" with the slogan, "bad ass. Smart ass. Great ass."
Also Read: 'Deadpool' Review: Ryan Reynolds' Anarchic Mutant Smashes the Superhero Mold
Then, on Jan. 11 of this eyar, "Deadpool" took a dig at Valentine's day and his opening weekend competition, including "Fifty Shades of Black" and the Nicholas Sparks adaptation "The Choice."
On Jan. 13, Reynolds tweeted out a picture stating, "29 days til Skull Poop L," referencing an Emoji billboard for the movie, which spelled out "Deadpool" using a skull, poop and the letter L.
4. Comic-Con
At Comic-Con last July, Reynolds showed the first trailer for "Deadpool" at Fox's panel. He later tweeted, "As much as I want the #deadpool footage from #SDCC officially released, the VFX shots aren't done yet. We have something for you in 3 weeks."
On July 8, Reynolds tweeted out a picture of Deadpool wearing a poncho and a sombrero and holding up a cardboard sign saying, "Comic Con, Por Favor."
5. Trailers and Teasers
Although the first trailer premiered at Comic-Con, most fans didn't get to see any footage until the first official trailer debuted on Aug. 3.
That is, when the teaser for the trailer hit the web. In the video, the self-dubbed Merc with a Mouth narrates the clip from a leather chair, saying, "Ladies and Gentlemen, I give you … Me! Deadpool. So, get ready to blow up your collective sphincters, because my trailer is coming… Tomorrow."
See Video: 'Deadpool' Teaches Men How to Check for Testicular Cancer in Viral PSA
At the same time, Deadpool made a cameo in the trailer for "Fantastic Four" on Aug. 3, bating viewers to go see the film by teasing the trailer for "Deadpool."
Indeed, on Aug. 4, the first trailer for "Deadpool" was released.  Then, on Dec. 22, the IMAX trailer debuted. On Dec. 25, a NSFW trailer was released, just in time for Christmas.
6. Other Viral Content, Such as Deadpool's April Fool's Joke
Fans were worried that "Deadpool" would seek a PG-13 rating to broaden its audience despite the Marvel character's reputation for vulgarity. When Ryan Reynolds said in an interview with "Extra," as well as tweeted, that the movie would be PG-13 on April 1, Deadpool's fanbase went ballistic. Later in the interview, Deadpool revealed the film would actually be rated R.
"It shows that the marketing team was paying attention to what people were saying, and they made a joke out of it," said Belhumeur. "When it comes to social media, fans love when their voices are heard, and they love when actors and brands are paying attention to the conversation and not just talking at them in one direction. It involves them and gets them more excited to share the film with friends."

Deadpool appeared on "Conan" on Aug. 4 to talk about the character and massage Conan O'Brien. On Halloween, Reynolds posted a YouTube video which showed him recruiting kids dressed as "X-Men." At the same time, Reynolds and wife Blake Lively Instagrammed photos of the actor in costume, going trick-or-treating with kids.
See Video: 'Deadpool' Baits 'Bachelor' Viewers With 'Shameless' TV Spot
Jan. 4 marked the day on which Reynolds tweeted out a "shameless Bachelor-baiting TV spot," just ahead of the premiere of the 20th season of ABC's "The Bachelor."
In other videos, Reynolds celebrated Australia Day and made fun of "Wolverine's" Hugh Jackman (Jan. 24) and wished China a happy Year of the Monkey after the country banned the movie due to explicit language and nudity.
On Jan. 28, Deadpool encouraged men to "touch themselves today," detailing how men can check themselves for "the most common form of cancer in men aged between 15 and 35," testicular cancer.  The video has amassed over 2 million views.
7. Social Media Play
In December, Fox launched a "Twelve Days of Deadpool" campaign, wherein new "tasty treats" were unveiled every day until Christmas, when the big trailer debuted (see above). New posters were released, a "leaked script" of the movie was unveiled, and Deadpool even showed his Christmas list to Santa Claus.
On Jan. 22, Deadpool took over Fandango's Twitter account, answering any questions fans might have.
And on Jan. 24, when the "X-Files" returned to Fox, Deadpool took a dig at the show, tweeting out two images in which the Merc with a Mouth can be seen in the woods accompanied by the caption "The Merc is Out There."
See Video: 'Deadpool' Makes Indecent Marriage Proposal in Raunchy Official Clip From Movie
"Deadpool" was one of the top five movies on Twitter and Facebook for several months, said Robbins. "It was tracking well ahead of 'Guardians of the Galaxy' on Twitter's day-to-day activity because 'Deadpool' is putting out new materials and new video content every few days."
From Feb. 5 to Feb. 8, for example, "Deadpool" accumulated 530,846 mentions on Twitter and reached a total of 3.3 million likes on Facebook. "Guardians of the Galaxy," three days ahead of its opening, amassed 102,112 tweets.
8. Surprise Screening
On Jan. 15, fans invited to see footage of "Deadpool" were instead treated to a screening of the entire film. Reynolds and Lively were in attendance.
9. Blanket Ads on 8 Cable Shows

Fox took over all the ad inventory for airings of eight programs on five Viacom networks this week, running nothing but custom spots for the hard R-rated superhero movie starring Ryan Reynolds.
The ads were tailored for each show, which include male-skewing series like like "Tosh.0" and "Workaholics" on Comedy Central, as well as more unlikely placements such as Logo's "Golden Girls."
In the film, the character follows "Golden Girls" on Instagram — so the commercials featured him bearing a rose and wooing viewers in a Valentine's Day seduction.