Before a pair of made-for-TV awards shows bring out the stars to Spike and MTV's stages this weekend, a host of parties lit up the post-Memorial Day week.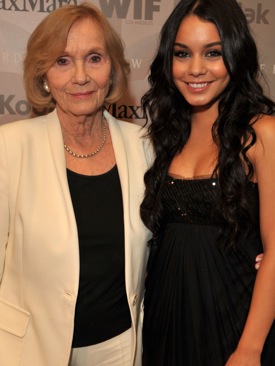 Women in Film presented the 2010 Crystal + Lucy Awards to Courteney Cox, Universal Pictures co-chair Donna Langley (below right, with Emily Blunt) and Zoe Saldana among others at the Century Plaza Hotel on Tuesday night. Debra Messing hosted the annual benefit for the nonprofit dedicated to supporting women in careers in entertainment and media. (At left, Vanessa Hudgens spent time with Eva Marie Saint backstage before presenting her with a legacy award.) Singer Colbie Caillat performed for the crowd that included Jennifer Anniston, Isla Fisher and Brian Grazer.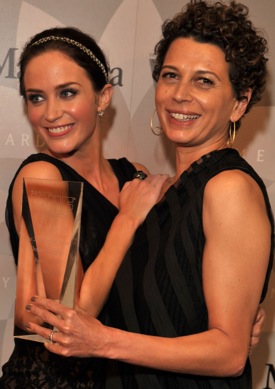 Meanwhile in the valley, the Academy of Television Arts & Sciences celebrated Bob Newhart's "50 Years in Show Business." "Newhart" stars Peter Scolari and Julia Duffy joined Newhart himself on stage for the show that included clips and live interviews. After a "Newhart" tribute in a spoof alternate "Lost" ending aired on "Jimmy Kimmel Live," "Newhart" is experiencing a softer version of fellow 1980s sitcom star Betty White's pop-culture renaissance earlier this spring.
As "So You Think You Can Dance" has enjoyed a strong ratings start for its seventh season, the show's host and judges congregated to self-congratulate during the show's premiere week at Trousdale lounge. (At left, CAA reality agent Jonathan Swaden, returning judge Mia Michaels, host Cat Deeley, and her agent, CAA's Andrea Ross.)
Finally, Amber Heard joined the American Cancer Society to help the W Los Angeles celebrate its 10-year anniversary. Long before the Hollywood W was the hotspot, the Westwood location was hosting poolside premiere parties for big-ticket films such as Heard's next outing, another Hunter S. Thompson adaptation with Johnny Depp, "The Rum Diary."