The inaugural Debra Hill Film Festival will be held on Friday and Saturday, Oct. 26-27, at the New Beverly Cinema in Los Angeles, the Producers Guild of America announced Wednesday.
Hill, who died of cancer at 54 in 2005, was one of the first women to establish herself as a major feature film producer in the modern era. The festival is a benefit to raise funds for the Debra Hill Fellowship.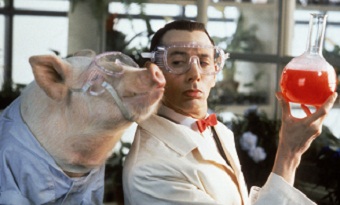 Two of Hill's signature films will be screened. "Big Top Pee-wee," the second big-screen outing of Pee-wee Herman, will be shown on Friday, Oct. 26. Paul Reubens and co-star Penelope Ann Miller will attend, along with director Randall Kleiser.
Also read: Bernardo Bertolucci Named Guest Artistic Director of AFI Fest
On Saturday, Oct. 27, director John Carpenter, a long-time Hill collaborator, will be on hand for a screening of his genre-defining 1978 thriller "Halloween." Hill wrote the screenplay for "Halloween."
"Debra was a trailblazer, an expert storyteller and a deeply committed member of the Producers Guild," said PGA president Mark Gordon. "In the years since her passing, we have worked to keep her spirit alive, holding her passion and professionalism as a model for a new generation of emerging producers. We are thrilled to have this opportunity to revisit her work and celebrate her inspirational legacy."
The Festival is sponsored by Mondo and the New Beverly Cinema in association with the PGA and Women In Film. New Beverly Cinema principals Quentin Tarantino and Michael Torgan have provided the revival house as home for the festival.
"We are excited to pay tribute to a remarkable woman and to her work that inspired so many of her peers," said Tarantino.
Also read: 'Hitchcock' World Premiere to Open AFI Fest
Proceeds will fund the Debra Hill Fellowship, awarded annually to a young producer graduating from an accredited graduate film program with a producing-specific curriculum. Recipients of the Fellowship are selected by the PGA's Debra Hill Fellowship Committee and awarded based on candidates' professional promise and personal reflection of Hill's legacy of humanism and activism.
Cathy Schulman, president of Women In Film said "All of us at Women In Film recognize Debra as a trailblazer and leader for women in Hollywood," said Cathy Schulman, president of Women In Film. "On behalf of Women In Film and also as a council member for the PGA, I'm proud and so thrilled to congratulate the guild for organizing an event that Debra would have loved and that recognizes the contributions of female producers."
Hill produced more than 30 films, including "The Fog," "Escape from New York," "Adventures in Babysitting," "The Fisher King," "Gross Anatomy" and "The Dead Zone."
New Mondo prints for "Halloween" from artist Ken Taylor and "Big Top Pee-Wee" by artist DKNG will be available with ticket purchase. Tickets and VIP packages are now on sale through Brown Paper Tickets.