A year ago, YouTube launched an initiative pouring millions of dollars into premium channels in hopes of raising the bar for its content from cat videos to professional productions.
Now, according to Maker Studios' chief development officer Chris Williams, "everything is moving in the right direction," as advertising revenue leads to six-figure monthly profits for some of its rising stars.
"With the objective of changing perception, I think [YouTube] has been very successful, advertisers' perspective has been changed as to the type of content on YouTube," Williams said at TheGrill conference Tuesday afternoon. "Older demographics are like, 'OK, now there are channels that maybe are for me.'"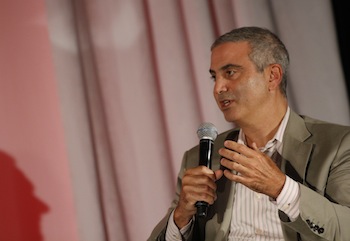 As companies like Maker — one of four powerhouse YouTube networks — are expanding and gaining greater legitimacy, traditional media companies are expanding into the digital realm, too.
"Media buyers are looking to buy across all platforms," Nicholas Lehman, president of digital at NBC Universal, said Tuesday at TheWrap's media conference, TheGrill. "We can only deliver if we put TV and video together."
Lehman declined to say how much revenue is generated from his arm of the media company, but added, "I'd like it to be bigger," though it is "better positioned to compete in the marketplace."
"You've got this industry that was fed by a lack of technology allowing direct consumer distribution," Brian Bedol, the found and CEO of Bedrocket Media Ventures, said. "Now it's available and ubiquitous."
Also read: How Maker Studios Is Turning YouTube Cynics Into Believers
Bedol said that cable programmers are "encumbered by legacy contracts," preventing some already-popular internet stars from bubbling to the surface.
But that is changing.
Williams noted the "Annoying Orange," a hit web series about the adventures of an orange with an obnoxious if eerie human face imposed onto it, recently scored a show on Cartoon Network.
"My industry has seen a lot of success in moving audiences from an internet-based platform like YouTube to television," he said. "You're starting to see that across lots of different distribution points."
And the reverse is beginning to hold true.
Williams said an agent for an A-list celebrity recently tried to land a gig for the client on Maker's YouTube network.
"I said, 'That's great' and the agent said, 'By the way, he needs a $1 million guarantee,'" he said.
But for many existing celebrities, such as New Yorker humorist Andy Borowitz, breaking into the digital sphere is less about making money off the bat and more about leveraging greater profits from their increased visibility.
Williams and Bedol recalled how the writer's mushrooming presence on Twitter and Facebook has upped the number of people purchasing tickets to his comedy shows and buying copies of his books.
"I do think you're going to start to see more and more of the traditional celebrities," Williams said.