EXCLUSIVE
The Westwood theater formerly known as the AMC Avco Center 4 is about to undergo a multimillion-dollar renovation, and offer food and drink service for seated patrons, TheWrap has learned.
When complete, the theater complex at 10840 Wilshire Blvd. will feature an additional two screens.
Avco Corp. President Bob Yari — better known in Hollywood for his work as a producer of movies including "Crash — told TheWrap that the company is finalizing negotiations with the expected operator of the renovated complex. He declined to name the exhibitor, but a prominent industry figure told TheWrap that it is likely Cinepolis Luxury Cinemas.
Also read: What Ails Hollywood? Six Movie Experts Weigh In On a Cure
Yari said there were three exhibitors in the running for the role: Cinepolis, a Mexican chain, Austin-based cinema chain Alamo Drafthouse Cinema and iPic Theaters. IPic operates the dine-in movie theater in Pasadena formerly known as Gold Class Cinema.
Yari said Avco and the winning operator have "a meeting of the minds" on the terms of an agreement, and that the lease documentation is being negotiated, with an announcement expected later this week.
A representative for Cinepolis did not respond to TheWrap's request for comment, and an executive from iPic would only say that it was one of the companies in the running to renovate the complex, which shut last month.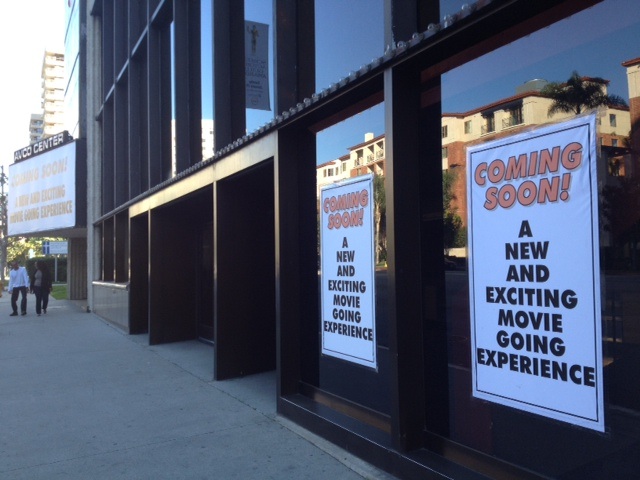 Yari said the renovated theater will offer a combined dining and theater experience, and that it will be "one of the first of its type on the Westside of Los Angeles." Banners reading, "Coming Soon! A New and Exciting Movie Going Experience," are draped draped outside the Westwood theater.
Also read: Judge to Bob Yari: Cough Up $12M to 'Crash' Group
"This is an important site, because there's nowhere else in Westwood that has the ability to be six-plus theaters, and there isn't a location that would support that for new construction," Yari said.
The food will be prepared by the dining operator in a kitchen located on the premises. The theater will also feature six digital screens, with 70 to 150 seats per theater, and valet parking.
The AMC Avco Center 4 closed Dec. 4 when the chain and the Avco Center Corp. failed to reach agreeable lease renewal terms, a spokesman for AMC told TheWrap.
The Avco was, during its heyday, one of the hippest theaters on the Westside. It opened in 1972 as a three-screen complex and was the first in L.A. to have a THX sound system installed. AMC — the second-biggest theater chain in the U.S. — brought the complex in 2002. Since then, it has been eclipsed by newer theaters with more amenities.
"Now that it's gone, it's missed," property manager Hope Hunter told TheWrap, adding that the complex was one of the only multi-screen locations in the Westwood area. "Every time I walk outside, someone asks what happened, and they say how sad they are the movie theater is gone."
Yari said the opening date for the renovated theater has yet to determined.
"It depends how fast the permitting process goes," Yari said. "We're hoping to minimize the construction period."
The exterior of the building will stay the same — only the interior will be renovated — so Avco won't have to go in front of a city planning or zoning commission. However, the company will have to apply for a liquor license, as alcohol would be served as part of the dine-in theater experience.
"There should be a really nice movie theater in this area," Yari said. "It's an incredibly affluent area."
However, he added that the company is also hoping to draw students from the nearby UCLA — a community that is currently served by older, single-screen theaters: Regency's Village and Bruin theaters; and the Landmark Regent. Late last year, the city lost another noted theater: the landmark Bigfoot Crest.
Also read: Theater Chains Dive Into Distribution
Dine-in theaters have been around since the late 1990s, and there are now roughly 400 national theaters that have some combination of restaurant and alcohol service. The recent growth trend will continue in the coming years, said National Association of Theatre Owners Director of Media and Research Patrick Corcoran.
"We've seen older audiences coming back to the theater, and they have more disposable income and expect a certain level of service," he said.
Also read: Surprise Monthly Movie Pass Angers Theater Chains, Studios (Updated)
Mark Mulcahy, VP of marketing for iPic Theaters — which purchased Gold Class Cinemas in October 2010 — said the chain's eight dine-in locations grossed more in 2011 than the year before. He also said they pre-sold a combined 6,000 tickets to "The Twilight Saga: Breaking Dawn — Part 1" last year.
He added that the single-screen Pasadena location, which only seats 40 people, consistently sells to capacity. The venue offers gourmet food, 12 beers on tap and mixology-crafted drinks.
"It's easy to stay home unless you have a reason to go out," he said. "If going to a theater doesn't feel like a night out, people won't."
Still, not everyone is sold on the dine-in-theater concept.
"It's not something that we are particularly interested in doing," Laemmle Theaters President Greg Laemmle said. "My family's been in this business for 70 years, and we're not going to learn [this concept]. People who run those theaters are as much restaurateurs and bartenders are they are theater operators."
Laemmle previously operated that Old Town Pasadena location now run by iPic.
"From a philosophical standpoint, we see ourselves as providing a lower-priced, comfortable but more spartan experience for people who see a lot of movies," Laemmle said. For example, a premium-plus-seating ticket for an evening show at iPic in Pasadena costs $29. The ticket includes in-cinema food and beverage service, popcorn and reserved seating in a fully reclining chair with a pillow and a blanket.
Still, Laemmle said there is a segment of moviegoers willing to pay for such an audience experience, and that there may be made of them in Westwood.
"In terms of proximity to high-end clientele, it would seem to be a perfect location," he said.
(Photographs taken by Lew Harris)