Disney's new animated movie "Tangled," the updated version of the Brothers Grimm fairy tale "Rapunzel," has hit theaters, and my 3-year-old daughter couldn't be more excited.
After all, she's having a hard time finding stories that feature girls as the main character – especially in old-school Disney classics that painted stark portraits of genteel maidens who were just waiting to be rescued by a handsome if vapid prince.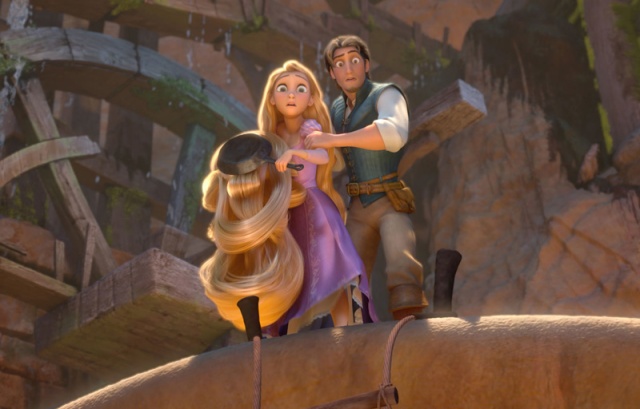 If I sound as if I'm ready to launch Ms. for Preschoolers – Forget Miss, mister. It's Mz, now! – it's because my astute and thoughtful child brought it to my attention one night before bedtime that she couldn't find a prominent girl in a lot of her books – something that, admittedly, hadn't occurred to me before then.
"Is Piglet a girl?" she asked one night while I was reading one of her "Winnie the Pooh" picture books.
"No, Sweetheart," I answered. "Piglet's a boy."
"Who's the girl then?" she prodded.
I was stumped. Then embarrassed. Then upset.
Pooh? No. Christopher Robin? No. Tigger? No. Not even Rabbit, Roo or Eeyore.
When I finally got to the maternal marsupial Kanga, my daughter and I both seemed disappointed. Oh. The mom? She doesn't even appear in the stories very often.
"No," my daughter CC said, revising history on the fly, "Piglet's a girl."
When I looked around at the other books on my daughter's bookshelf, I realized that "Winnie the Pooh" wasn't the only book in the boy's club. "Curious George"? "The Lion King"? Et tu, "The Runaway Bunny"?
Of course, many modern additions to the kid-friendly lexicon, including "Super Why!," "Sid the Science Kid" and the older-skewing "Harry Potter," make very large efforts to incorporate strong female characters into their stories, but that's still not the same as having a girl be the central character.
It's only when I picked up old-school stalwarts such as "Cinderella" or "Snow White" or "Sleeping Beauty" or even modern Disney entry "The Little Mermaid" that I found a girl front and center (which might explain the whole "Princess" craze I've seen among toddler and preschool girls, particularly on Halloween) – but each girl was also the proverbial damsel in distress.
CC does have girl-dominated books about ballet, which feature few if any boys (although that's a different story altogether, as "Billy Elliot" has helpfully shown us). There's also a little femme star in Ian Falconer's series "Olivia," which gives sassy girls their due. But, for the most part, they're few and far between.
That's one of the reasons CC – and I, for that matter – are looking forward to "Tangled."
This new addition to the Disney canon, at least in the trailer, shows a quick-witted young girl, who might be looking for an escape but one that she can help engineer herself. When she is confronted with the roguish Flynn, she doesn't immediately leap into his arms. In fact, she considers him an intruder and knocks him in the head with a pan before tying him to a chair using her super-long magical hair.
Now, if that isn't girl power, I don't know what is.
Disney, of late, has rewritten the rules on female characters, which is heartening to see. The star of "The Princess and the Frog," Tiana, was not only a young woman, but a strong, determined African-American woman, a fact that had the voice of Tiana, actress Anika Noni Rose, tearing up in front of cameras.
Perhaps the family-friendly company has met several moms, as I have, who refuse to let their daughters read or watch "Sleeping Beauty" or "Snow White," as they don't want to explain why the victimized girls don't just stand up for themselves, instead of reaching a seriously low point (Hello, being mistaken for dead!) before a powerful yet personality-free guy with only the name of Charming or Handsome defies the evil older woman or stepmother. (Again, that's a whole other story.)
Or maybe they are hearing from moms who want to empower their girls, who are already excelling in school and dominating tech devices like iPhones and iPads at shockingly young ages, who haven't been around long enough to know that girls often have had to work harder just to get noticed, intellectually speaking.
Whatever the reason, it's a promising start.
Because if my daughter noticed this discrepancy at 3 years old, I can only imagine the numbers of elementary school-aged, tween and teen girls who are ready and willing to untangle themselves from convention and write new books of their own.