The news that Disney has acquired Lucasfilm and would be making more "Star Wars" movies definitely created a disturbance in the online force, but for now the reaction seems generally positive, or at least hopeful.
Disney's handling of "The Avengers," after it bought Marvel in a similar megadeal, resonated with many fans and had them giving the Mouse House the benefit of the doubt … for now.
"I get that people are annoyed at George Lucas milking the cash cow as it were, but Disney didn't do too shabby a job on 'The Avengers … Who's to say they'll kill 'Star Wars?'" tweeted BeearandBoudinage. "Think of the money/resources Disney has access to. I think Disney has a better chance than most of making a new 'Star Wars' film, and making it well."
That was enough for commenter Pixelsmack on Ain't It Cool News: "Disney rescued the Marvel franchise, I have faith STILL."
Not all agreed. "News of 'Star Wars 7' instantly surpasses Hurricane Sandy as disaster of the week," tweeted Funny or Die.
Also read: Will The Force Be With Disney's $4B 'Star Wars' Gamble?
But the fact that the deal means more 'Star Wars" movies was paramount to most.
"Do I want to see more 'Star Wars' movies?" wrote Beaks on the Ain't It Cool website. "Not really, but they're not making these movies for me. There's a whole new generation of 'Star Wars' fans, and they worship the prequels like folks my age worshipped the original trilogy."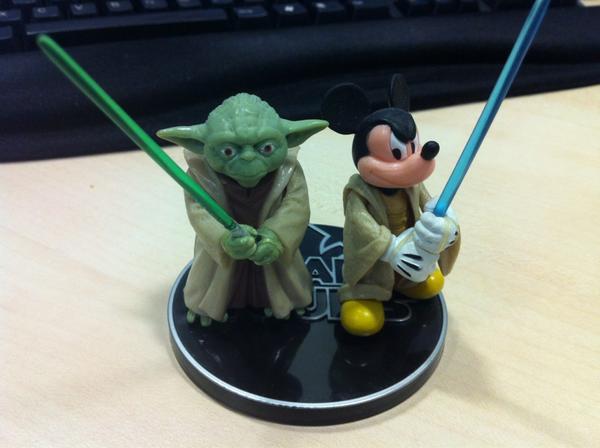 Others were pragmatic.
"We're all complaining bitterly about 'Star Wars 7,' but remember," tweeted John Nolte, "we're all going to see it."
Many were glad to see Lucas relinquish the creative reins and some took potshots at the franchise's prequels, reviled by many true believers.
"Thank Christ, no more turkey neck killing his creation. Bring on Nolan, Whedon or Peter Jackson to direct Episode 7."
Picking the director for the next "Star Wars" movie was by far the most popular sport to come out of the development, and fan sites were flooded with lists of possibilities.
Besides Christopher Nolan and Joss Whedon, some of the most popular names put forward were Guillermo del Toro, Brad Bird, David Yates, Ridley Scott and Neil Blomkamp. Among the more out there were Wes Anderson and Danny Boyle.
Also read: Disney Bets 'Indiana Jones,' 'Star Wars' Still Home Entertainment Juggernauts
Cochise listed his top 15 choices for the Moviefan Central web site. His last choice was Steven Spielberg. "He is so low on this list only because I really, really don't see him doing it. I mean it's possible, and it would be fantastic to see but I have a feeling it would be like George Lucas directing a sequel to 'E.T.' It's like screwing your best friends girlfriend or something heh."
Not everyone was expecting the best from the marriage. "This stands to be a hugely double-edged sword … er, light saber," warned commenter Redshirt.
Gorgomel was fearing the worst on Ain't It Cool News: "Star Wars Episode VII: Snow White and the Seven Jawas."
Disney's affinity for synergy had commenter Hornorsilk worried that a crossover with "Once Upon a Time" was in the works.
Along with complaining that the deal wouldn't initially result in a boxed set of the earlier "Star Wars" movies because of rights that remain at Fox, imagining the mashup possibilities — mentally and in Photoshop — kept many fans busy:
"Now Disney needs to buy 'Star Trek' so we can get 'Star Wars' vs. 'Star Trek' vs. Marvel. Acquire 'Alien' and throw it in there. I want everything I like blended together on puree," urged Ultraton.
Mouse-eared commenter klavoie saw it in the grander perspective:
"Ok, Mayans, we get it. #starwars7"
Rebecca Rosenberg and Colin Sylvester contributed to this report.