At the party following Thursday night's screening of Rory Kennedy's upcoming HBO documentary "Ethel" in North Hollywood, filmmakers and guests and staff of the International Documentary Association were in a celebratory mood.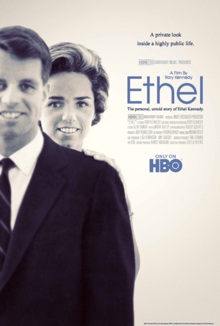 The lovely, funny, moving doc about Ethel Kennedy, made by the last of Ethel's 11 children, was the launchpad for the IDA's 16th annual DocuWeeks showcase, which kicks off at noon Friday and runs through August, featuring 17 shorts and 11 features.
Not an official part of the DocuWeeks schedule, "Ethel" had a gentle touch and a keen eye for the best way to illuminate the humor, heartbreak and indomitable spirit of a woman who deserves to be known for far more than just being the widow of assassinated 1968 presidential candidate Robert Kennedy.
But DocuWeeks organizers had something else to celebrate, too: Their annual showcase had survived a stormy period in which the IDA had to scramble to deal with new Academy rules that could have killed the program entirely.
"We had a few tense weeks trying to figure out how we could keep this going," IDA Executive Director Michael Lumpkin told TheWrap on Thursday.
"Because if we couldn't guarantee to the filmmakers that we will qualify them for the Academy Awards, why would anybody want us to show their film?"
DocuWeeks, which takes place in both Los Angeles and New York, is designed specifically with Oscar-qualifying rules in mind. Its three-week run is divided into three separate one-week programs of between five and seven films; each film runs twice a day, which satisfies the AMPAS requirement that a doc must have a one-week run of at least two showings a day in Manhattan and Los Angeles County.
Also read: Oscar's New Documentary Rules Can't Kill DocuWeeks
Over its previous 15 years, DocuWeeks has qualified more than 200 films for the Oscars, with those films receiving 25 nominations and winning seven awards.
But new rules that were passed by the Academy's Documentary Branch and approved by the Board of Governors earlier this year added a requirement that filmmakers prove they had a true theatrical run by showing a review from either the New York Times or the Los Angeles Times.
That rule was designed largely to prevent stealth bookings of made-for-television documentaries – for example, HBO's frequent practice of giving its docs unpublicized one-week runs in theaters on the outskirts of Los Angeles County, quietly qualifying the films for Oscars while holding reviews and publicity for their television premieres.
But the rule mandating a review impacted DocuWeeks because the New York Times considers the showcase a film festival and as such does not review its films. In the past, the Los Angeles Times usually reviewed only a portion of the selections.
As soon as the new rules were announced, Lumpkin said the IDA staff began speaking to a number of people, including sympathetic members of the Academy's doc branch. If they had been unable to find a solution, he said, it was entirely possible that DocuWeeks would have been eliminated.
But the L.A. Times concluded that reviewing all DocuWeeks films "would be consistent with our guidelines" of reviewing every feature that plays for a week in Los Angeles, Times film editor Julie Makinen told TheWrap in April.
The Times' decision to review the films put DocuWeeks back on track – though director Michael Moore, an Academy governor and the main force behind the rule changes, told TheWrap that he welcomes the L.A. Times' new policy but still does not consider DocuWeeks a true theatrical booking because the IDA charges filmmakers to participate.
"You're paying 20 grand to buy eligibility, and we should not be a part of that," he said.
DocuWeeks' fees differ depending on the length of the film and its format, but feature filmmakers typically pay between $15,000 and $20,000 to cover the two week-long runs. The selection is curated by the IDA, with participants chosen from among the dozens of films submitted.
This year, Lumpkin said, 65 features and 32 shorts were submitted, of which the 17 features and 11 shorts were selected.
Among the films that will screen in DocuWeeks' first week in Los Angeles are "La Source," Patrick Shen's fascinating and affecting look at Princeton janitor Josue Lajuenesse (right), who spearheaded a movement to supply clean water to the small village in Haiti where he grew up.
Don Cheadle narrates the film, which according to producer Brandon Vedder grew out of a previous doc from director Shen, "The Philosopher Kings," which followed janitors at a number of Ivy League universities.
Also on the week-one program: "Without a Net," about the effect of a circus on the residents of a Rio de Janeiro slum; "Once in a Lullaby: The PS22 Chorus Story," which chronicles the 2011 appearance of a New York grade-school chorus at the Academy Awards; "Trial By Fire: Lives Re-Forged," which follows a group of survivors of serious burns; "Digital Dharma: One Man's Mission to Save a Culture," about a Mormon man's 50-year quest to preserve ancient Tibetan texts; and "Garden in the Sea," about a Spanish artist's creation of an underwater sculpture in the Sea of Cortez.
All were reviewed by the L.A. Times on Friday — and in an affirmation that DocuWeeks selections are deserving of theatrical release and awards consideration, all six reviews were positive.
The shorts program, meanwhile, consists of "Beauty CULTure" from "The Queen of Versailles" director Lauren Greenfield, and "Kings Point," a touching look at a retirement home in Florida from director Sari Gilman.
Another six features will screen for a week beginning on Aug. 17, and a final group of five on Aug. 24.
DocuWeeks was forced to relocate to the Laemmle NoHo 7 multiplex in North Hollywood when last year's venue, the Sunset 5 in West Hollywood, was still undergoing renovation after its purchase by Sundance.
As usual, the L.A. version of DocuWeeks kicked off with a screening of an HBO documentary that isn't part of the official lineup. (HBO may have been largely responsible for the rule change that could have killed DocuWeeks, but it has also been a longtime supporter, and the sponsor of the opening-night screening and party.)
"Ethel" marked a return to DocuWeeks by Rory Kennedy, who produced the Oscar-nominated short doc "Killing in the Name," which qualified at the showcase two years ago. The film, she said in a post-screening Q&A, came about only after HBO Documentary chief Sheila Nevins kept bugging her to make a film about her mother, who hadn't given an extended interview in more than 20 years.
Also read: Back to Camelot: History Accents Positive in 'Kennedy Home Movies'
"I said, 'No, no, absolutely not,'" remembered Kennedy. "But she kept asking, so finally I called my mom and asked her if she'd do it, figuring that she could tell Sheila no. But she said yes."
"Ethel" will debut on HBO on October 18, and Kennedy told TheWrap that it will receive Oscar-qualifying runs in New York and Los Angeles that same month.
By that point, Lumpkin said, the IDA will be thinking about next year's installment of DocuWeeks – but they're not taking anything for granted.
"We're starting to plan for 2013 now, but we have to be careful," he said. "You never know when a rule change might come along and impact what you do."