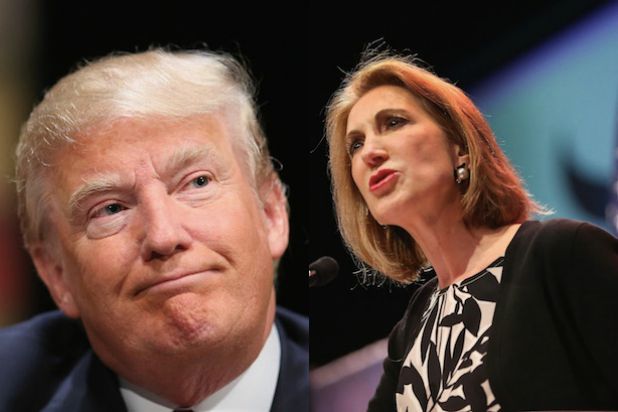 Donald Trump believes that rival Republican presidential candidate Carly Fiorina got "softball" questions at Wednesday night's GOP debate.
The billionaire real estate developer was asked by Fox Radio's Brian Kilmeade about a comment made by Wisconsin Gov. Scott Walker, who argued that the media was going to declare Fiorina the winner "no matter what."
"I think on some level they wanted to have some kind of narrative," Trump said. "They fed her softballs. Some of the things they asked were ridiculous."
Also Read: Carly Fiorina to Appear on 'The Tonight Show Starring Jimmy Fallon'
Trump went on to say that he found Fiorina to be "very robotic," while poking fun at her for referring to Israeli Prime Minister Benjamin Netanyahu as her "friend."
"I've heard that so many times, and she said it the other night too, the same exact words," Trump told "Kilmeade & Friends." "Bah, bah, bah — like a robot … I think she's very robotic."
Trump also slammed Fiorina for "destroying" Hewlett-Packard as CEO of the company, a point he made during the debate which Fiorina denied.
Also Read: Carly Fiorina Scores James Woods Endorsement
"The other day they laid off 30,000 people, they are still suffering the effects of her reign," Trump said.
Listen to the full "Kilmeade & Friends" interview here.