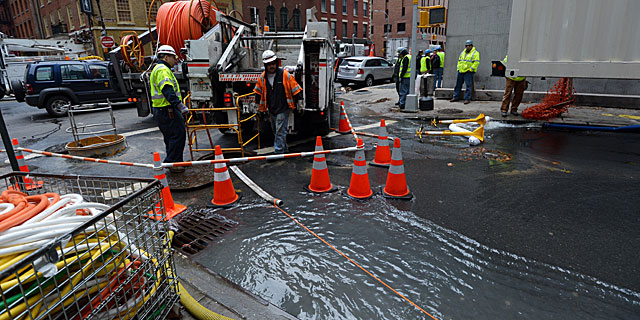 The independent film world has been hit hard by Hurricane Sandy. With the lower half of Manhattan plunged into darkness and damp, indie executives headquartered downtown are digging out from flooding and power outages at the time when they are usually planning premieres and pre-Oscar events.
The Weinstein Company, with its offices in the heart of Tribeca, found itself coping with flooded basements and no power. "Our I.T. guys always planned on a backup in the case of a natural disaster, they just never planned for 20 feet of seawater," David Glasser, chief operating officer of The Weinstein Company, told TheWrap.
Other indie companies like Oscilloscope Laboratories and Cinetic Media have been forced to close their offices while they, like many New York businesses, wait for electricity to return.
Also read: Hurricane Sandy Slams Entertainment Industry With Production Delays, Lost Ticket Sales
Even Sony Pictures Classics, housed in midtown, closed its offices for part of the week. Co-chairman Tom Bernard said that their building has power now, but Sony Pictures Classics has been running a "skeleton crew" out of New Jersey because so many people live in the outer boroughs.
"No trains, no buses, roads have no stoplights …hopefully things will get better for all next week," he wrote in an email.
Bernard, who lives in Atlantic Highlands, New Jersey was one of many executives who had to deal with hurricane damage and flooding at home, as well as the challenge of getting into the city.
"Most of us live in Brooklyn or Queens or Long Island," said Matt Cowal, senior vice president of marketing and publicity at Magnolia. "Most of us are just working from home. We're all waiting to see what happens and to play it by ear. We can do our jobs effectively remotely."
Cowal predicts most people will return to the office by Monday.
Also read: Hurricane Sandy: Most New York Studios Unscathed, But Chelsea Piers Not So Lucky
In the heart of the arthouse movie season, The Weinstein Company has been without email for three days this week. After its servers went out in the storm, its backup servers in New Jersey were taken down in the next wave of violent winds and surging waters.
"The city of New York is our hub," Glasser said. "We have offices in London and L.A., but when that goes down, it impacts us across the board."
He said employees quickly moved to Gmail and other services, stressing that the company has managed to keep on target with the several films, such as "This Must Be the Place" and "Silver Linings Playbook," that are due out in the coming weeks.
When it comes to New York's electricity shortage, the independent film scene is being burned by its location. (Click on map to enlarge) Oscilloscope, ATO Pictures and Cinetic are also located in the lower half of Manhattan, where Consolidated Edison Inc. opted to shut off power on Monday, leaving an estimated 228,000 people without electricity. Were they located a few blocks north, their situation might be entirely different.
Like those other indie labels, Focus Features is located in downtown Manhattan, leaving its offices without power. However, instead of requiring people to work from home, the company's corporate parent NBC-Universal has offered staffers workspace in its midtown offices.
For the most part, the hurricane has led to logistical nightmares but not massive property damage or insurmountable disruptions in the flow of work. Films will still go forward with their scheduled releases, thanks to improvisation in the face of transit woes and other nightmares.
"Our main concern is that all of our employees are safe and hopefully Monday will be business as usual," Laura Sok, a spokeswoman for Oscilloscope, wrote in an email to TheWrap.
Also impacted are the New York branches of talent agencies. While agencies like William Morris Endeavor were safely nestled away from the blackouts in Midtown, others like Paradigm were not spared from the electrical failures.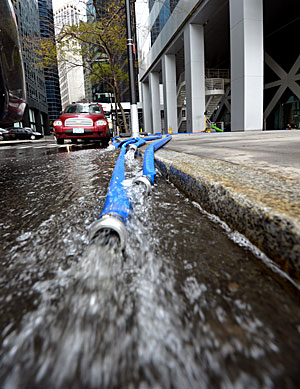 Its office on Park Avenue South has been closed since Monday and may not reopen until next Tuesday. With the company's email servers affected, New York-based Paradigm agents have been unable to access their business correspondence remotely.
But other companies are trying to stay up and running by asking their employees to pitch in from home. Even some entertainment companies that have power, such as Magnolia, are not expecting workers to come into the office while the city's subways are largely shut down.
Despite the canceled flights that have bedeviled the East Coast, some executives have managed to make it to Los Angeles in time for this week's American Film Market. Magnolia President Eamonn Bowles caught a flight, even though his house in Long Island is without power, and Oscilloscope executive David Laub also was able to make the trip.
The week has been stressful, but it has also inspired a sense of civic pride among the band of indie studios.
"There's been chaos and a little extra stress," Glasser said. "It's a crazy time for us, but we feel very fortunate. There are people without homes and there are lost lives, and our hearts and prayers go out to them. But New Yorkers are amazing and we are die-hard New Yorkers."
Lucas Shaw contributed to this report.