How do you get your feature directorial debut baptized by one of the industry's Godfathers? Be Drew Barrymore. Steven Spielberg came to support actress/director/God-daughter Barrymore's "Whip It" at the film's Tuesday premiere at Grauman's Chinese. (Pictured with film's star Ellen Page at left, courtesy of Getty Images) The film started slowly this weekend with $4.9 million. Barrymore was still all smiles at the after party, catching up with Justin Long, Len Wiseman and Kate Beckinsale. (Photo below right courtesy of Getty Images)
Current industry feud rules dictate that when one blonde leading lady (Kristin Cavallieri) replaces her rival (Lauren Conrad) on a hit show, they throw competing fashion parties around the show's season premiere. Cavallieri struck first on Tuesday, hosting the Unite Unveiled event at Skybar simultaneous with her MTV premiere airing nationally (Eeek … ratings down 30%). Two nights later, Conrad took to Melrose Place (the street) for the launch of her new fashion line for Kohl's. Fellow TV actor Danny Masterson spun the tunes for the crowd that went home happy — finding "cash equivalent" Kohl's gift cards in the goodie bags. Odds are the "brat pack" party guests will shop digitally. The nearest Kohl's outlets? In the "un-Hillsy" zipcodes of Sun Valley and Westchester.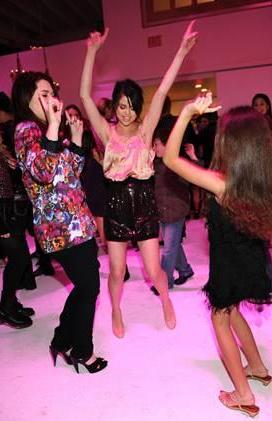 Meanwhile, Selena Gomez (pictured at right) celebrated her record release in much the same way "real" people outside Hollywood would mark a momentous event — owning the dance floor at their own launch party. (Gomez pictured at left, courtesy of StarTraksPhoto) Onitsuka Tiger hosted the Sunset Blvd. bash and made sure every single guest — including Jennette McCurdy ("ICarly"), Sterling Beaumon ("Lost") and some well wishers twice their age — went home with the right size of the popular fashion sneaker.
In other popular sneaker parties … Disappointed LA soccer fans might be chasing David Beckham with pitchforks, but it doesn't look like he has been run out of town yet. David and Victoria Beckham (pictured at left, courtesy of Getty Images) drew impressive friends (Eva Longoria, Snoop Dogg, Ben Stiller, Ellen Pompeo) and families (Quincy Jones and daughter Rashida Jones) to Melrose on Wednesday. All the faces showed up to help Beckham launch his 2009 shoe for Adidas, part of the star-fronted "Originals By Originals" luxury footwear. Yes, shoe deals are not just for Lakers.
Two more surprises came at the anti-human-trafficking org Somaly Mam Foundation's benefit at Jeff and Mei Sze Green's house in Beverly Hills on Tuesday. MC Ron Livingston passed the mic to American Idol judge Kara DioGuardi – not to snark, but to sing herself. She gave the rare "about face" performance for a more intimate crowd than the 28 million viewers who gawked at DioGuardi's much discussed "bikini" performance in the show's May finale. Donald Faison, Edi Gathegi and Rosemarie DeWitt were all ears. Party fixture Annalynne McCord provided the second surprise of the night, outbidding the room for a self-funded "work trip" to Cambodia with trafficking survivor/co-host Somaly Mam herself. Price: $12,000.