When it comes to the Emmys, HBO still rules. But at least the competition can console themselves with a little evidence that the gap is narrowing.
The cable giant picked up 81 Emmy nominations on Thursday morning, giving it a comfortable lead over CBS with 60, PBS with 58 and NBC with 51.
But that showing was far less dominant than 2011, when HBO more than doubled the showing of second-place CBS, 104 to 51.
Also read: Emmy Nominations 2012: The Complete List
And in a year in which strong challengers came from unlikely sources, the Emmy nominations provided an American horror story for "Glee," "The Office" and "Survivor," but a love story for "Girls," "Hatfield's & McCoys" and "American Horror Story" (left).
The last series, Ryan Murphy's haunted-mansion story with Jessica Lange and Connie Britton, benefitted from qualifying as a miniseries rather than a drama series, and tied with "Mad Men" for the most nominations with 17.
"Downton Abbey," meanwhile, wasn't hurt by its own switch from miniseries to drama series, picking up 16 nominations to equal the surprising History miniseries "Hatfields & McCoys."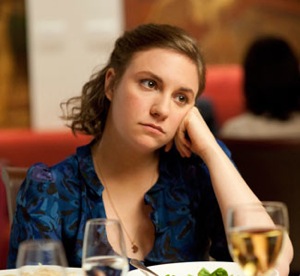 And HBO's controversial "Girls" (right) had a strong showing in its rookie season, with six nominations that included Outstanding Comedy Series and Outstanding Lead Actress in a Comedy Series for creator Lena Dunham. (Dunham made it a personal trifecta with nominations for writing and directing as well.)
Also read: Emmy Reactions: Giancarlo Esposito Is 'Over the Moon,' Don Cheadle Says His 'Bribe Paid Off'
But Ryan Murphy's other show, "Glee," dropped from a dozen nominations in 2011 to only three, while "The Office," in its first season without Steve Carell, was shut out entirely.
And "Survivor" host Jeff Probst's streak as the winner of every Emmy ever handed out for Outstanding Reality Host will come to an end, because he wasn't even nominated. (But Betty White was, for "Betty White's Off Their Rockers.")
Overall, HBO held a comfortable lead courtesy of nominations for its series "Girls," "Boardwalk Empire," "Game of Thrones" and "Veep" and its movies "Hemingway & Gellhorn" and "Game Change."
But while the network had four of the top 10 most-nominated programs last year, this year only "Hemingway & Gellhorn" cracked the top 10.
If the Outstanding Drama Series category went generally as predicted and is the province of established shows like "Mad Men," "Breaking Bad" and "Downton Abbey" (plus newcomer "Homeland"), the comedy categories found room for new blood.
Not only did first-time nominees Dunham and Zooey Deschanel ("New Girl") make it into the lead actress race, but two of the six nominees in the Outstanding Comedy Series category, "Girls" and "Veep," are new shows.
Other wrinkles: Reigning champ Jim Parsons got another nomination as Outstanding Lead Actor in a Comedy Series, but his "Big Bang Theory" castmate Johnny Galecki was bypassed in favor of "Two and a Half Men" star Jon Cryer, who got props from the voters for steering the show out of the Charlie Sheen era.
Presumed comedy-actress heavyweights Laura Linney ("The Big C") and Laura Dern ("Enlightened"), meanwhile, were bypassed in the comedy actress category in favor of Dunham, Deschanel and Julia Louis-Dreyfuss ("Veep").
"Louie," standup comic/actor Louis C.K.'s daring comedy series, managed three nominations, including one for its star – but the comedian's standup special, "Louis C.K. Live at the Beacon Theatre," topped that with four nods.
Another edgy comedy series, "Community," which won the recent Critics Choice TV Award as best comedy series, received only a single Emmy nomination, for writing.
"Modern Family" once again was the most nominated comedy, with 14. Once again all six of its main actors entered themselves in the supporting categories, and once again all six received nominations.
On the drama side, CBS's "The Good Wife" had a decent showing — seven nominations, six for acting and one for casting — but its days as the lone broadcast-network entry in the Outstanding Drama Series category have ended, leaving CBS, NBC, ABC and Fox shut out of that category entirely.
An intriguing battle is shaping up in the Outstanding Supporting Actor in a Drama Series category, where "Mad Men" star John Slattery was passed over in favor of castmate Jared Harris, and where a battle looms between reigning winner Peter Dinklage from "Game of Thrones" and a pair of formidable foes from "Breaking Bad," Aaron Paul and Giancarlo Esposito.
(Brendan Coyle and Jim Carter from "Downton Abbey" round out the category.)
In keeping with tradition, the most nominated show and the most nominated person in Emmy history both broke their own records. "Saturday Night Live," which had an all-time record 142 nominations prior to Thursday morning, added another 14 to bring its total to 156.
Cameraman Hector Ramirez, meanwhile, received four more nominations to bring his own record total to 68.
Emmy voters, after all, have always been creatures of habit — even if those habits aren't quite as reliant on HBO as they used to be.