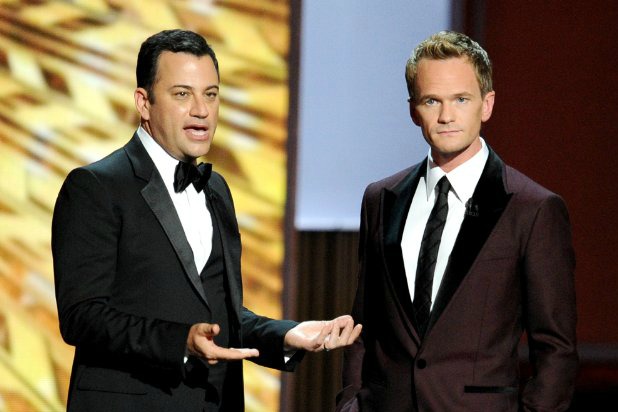 The 66th Primetime Emmys will air weeks earlier than they did last year — and on a Monday. The move means the awards show won't disrupt NBC's "Sunday Night Football" or preseason games.
NBC and the Television Academy announced Tuesday that the show will air live coast-to-coast from 8-11 p.m. ET/5-8 p.m. PT from the Nokia Theatre in Los Angeles. No host or producers have been announced yet.
Also read: Ratings: Emmys Score Highest Key Demo Ratings Since 2006, but NFL Still Grabs Win
Additionally, the Creative Arts Emmy Awards will be held on Saturday, Aug. 16.
This is the first time the Emmys have been held on a Monday since May 17, 1976.
Also read: Seth Meyers on His Emmys Host Potential: 'I Hope Jimmy Keeps Doing It'
The move means the ceremony won't disrupt NBC's golden goose, "Sunday Night Football," which last year debuted in the first week of September and is TV's highest-rated show. The awards also won't run up against the preseason. The NFL schedule won't be released until April.
The airdate also ensures that the show will air well ahead of new fall shows debuting for the 2014-15 season.
Last year, as CBS aired the Emmys and they went head-to-head with "Sunday Night Football," the NFL won handily. "SNF" earned a 6.9 rating/18 share in the key 18-49 demographic, and 18.7 million viewers. The Emmys earned a 4.3/12 and 15.3 million viewers.
Also read: Piers Morgan Post-Emmys: 'It's Over' for Jon Stewart
Despite the competition from football, the 2013 Emmys were the highest-rated in the demo since 2006, and most-watched overall since 2005.