ABC's 2011 canceling of "One Life to Live" and "All My Children" signaled what many believed to be the death knell for daytime drama. Daytime stars, however, occupied a special place in the hearts of fans.
The impassioned quest for fame drives a legion of would-be actors manning waiter-waitress gigs, enrolled in college film courses and filling rooms from Los Feliz to Santa Monica taught by self-promoting acting gurus "with the secret."
The short life of international stardom is best experienced when discussing who will be the next Paul Newman or Sean Connery with USC and UCLA students. Many have never heard of Newman at all and just barely have a vague idea who Connery might be. After all, is there anyone under 50 who knows or remembers Jimmy Stewart, Edward G. Robinson, James Cagney, Frederic March, Spencer Tracy or Burt Lancaster? The next generation will simply not know Connery or Pacino.
But a sub-sector will always cherish their heroes: daytime soap stars.
It was a particularly star-studded lunch group in the El Padrino Room of the Beverly Wilshire Hotel. David Niven sat with a beautiful lady, and Michael Caine sat with producer David Brown at the next table and waved to Sean Connery while no one else in the crowded lunchtime approached the seated stars.
At another table was a surprisingly disheveled Ray Milland, his Turnbull & Asser shirt in disarray, hanging partially outside his Savile Row suit slacks, looking grumpy. And at yet another table, Al Pacino sat with a Morris agent. No one bothered them. No paparazzi or tourists. That was part of the deal owner Hernando Cartwright provided his guests in the '80's.
My Florida childhood friend Chris Robinson (not to be confused with the rocker who briefly married Kate Hudson), the veteran actor from "Twelve O'Clock High" and all those Quinn Martin action series who spent many years in daytime serials such as "General Hospital," reunited with me, his onetime actor (he directed me in Delray Beach winter stock), now an agent (but not his), after many years. He was starring as Rick Webber on the top-rated soap.
His opening salvo in a commercial "I am not a doctor but I play one on TV" became a part of television culture. Thirty-some years later it is still paraphrased in films and TV.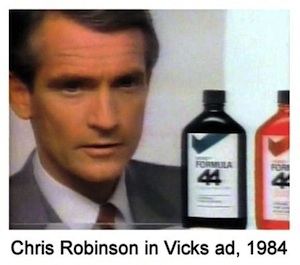 As we entered El Padrino, we noticed that unusual collection of legendary Hollywood. Two old-time veteran waitresses screamed when they saw Robinson, flew up to us and threw their arms around him. No, they had never met him, but his character would come into their lives at 3 p.m. when they took their breaks every working day to watch "GH."
For many years they had been cautioned by management not to make a fuss over celebrities. Over two and three decades, they had seen them all day after day. Connery, Niven, Caine, Milland or Pacino, even hotel resident Warren Beatty, were not real to them — they couldn't care less.
But "Rick Webber" was a part of their daily family saga, and they adored seeing him in the flesh. And wanted him to know that they cared. That was the power of daytime soaps.
Robinson, who had been acting since childhood, no longer felt the need to find "fame," (whatever that was) or endure L.A. traffic to audition for people younger than his children.
Always interested in native American culture, he ditched the Hollywood rat race and fled to Sedona, Arizona where he raised five sons.
Chris only left Arizona when the offer came in to do "Another World" in New York for two years. He went, taking three of his sons and visiting the fourth every month. He returned to L.A., had a fifth son and did "The Bold and the Beautiful" for several years.
Once back in Arizona, raising all the Robinson boys quickly became a full-time endeavor as they all played baseball and ice hockey and were the stars on two different teams each week and on all-star teams as well. Two of the older boys played for two national championship teams even though they were years younger than their teammates.
Chris considers this multi-year period to be the most rewarding time of his life.
Now, after many years he finally met the woman of his life, Jacquie Shane. An artist, singer and actress, "Jacquie is the strongest, most honest, talented woman I've ever encountered," he said.
Chris and Jacquie were married on Easter Sunday 2011, ending his 26-year run as a single father.
Robinson's primary residence, for the last 10 years or so, has been in a community called Cornville, where he built a hideaway ranch into a profitable business. He has two five-star vacation rental cottages on a half-mile of pristine, virgin Oak Creek and a fruit orchard that won the top prize as Best Commercial Orchard in Yavapai County.
He's currently filming "The Forsaken" a 1892 period western directed by a thirty-something former stuntman, Justin Kreinbrink. This indie western puts Chris back in front of the cameras after many years pre-occupied by life and family.
In "The Forsaken" he's a gunslinger. He's not really a gunslinger but he plays one … "