Sports fans should be able to continue tuning in to cable's regional sports networks, whether they subscribe to competing cable, satellite or telco TV operations, according to an FCC decision released late Friday.
That's the case because the FCC decision at issue — allowing the agency's so-called program access rules to expire — included key protection in the fine print for access to cable's regional sports networks.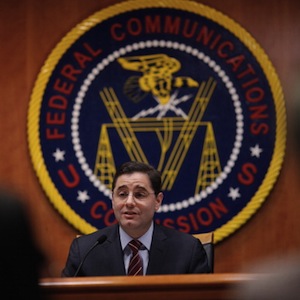 "We are pleased to see that the FCC … acknowledged that regional sports networks are important both for consumers and in the marketplace," Ed McFadden, a spokesman for Verizon whose FiOS service competes with cable, told TheWrap on Monday.
Also read: FCC Offers Plan to Auction Off Broadcast Space to Accommodate Mobil
"The commission's approach to RSNs (regional sports networks) at least shows that it still recognizes that incumbent cable systems have an incentive to use programming for anti-competitive ends," John Bergmayer, senior staff attorney for the consumer advocate group Pubic Knowledge, said in a statement Monday to TheWrap.
The program access rules, mandated by the Congress in the 1992 Cable Act, were originally put in place to keep powerful cable system owners from refusing to give satellite TV companies and other emerging competitors access to cable-owned programming.
More than half of the top cable TV networks at the time — including HBO — were owned by the cable industry, and U.S. regulators were concerned that the industry could refuse to sell its programming networks to others in an effort to impede competition.
Also Read: FCC to Back Away From a Majority of Its Indecency Complaints
But the FCC on Friday announced that it had decided that the market for multichannel video services in the U.S. is competitive enough that the regulations are no longer needed. The FCC allowed the rules to expire last Friday.
At the same time, the FCC announced that it will consider complaints from companies that feel that they are being unfairly denied access to important cable TV programming. In addition, the agency said the burden would be on cable operators to justify withholding their regional sports networks from telcos, satellite TV operators and other cable systems in their service areas.
"The FCC is focused on promoting competition and protecting consumers in the evolving video market," FCC Chairman Julius Genachowski, pictured above, said in a statement on Friday. "Today's unanimous decision enables the FCC to continue preventing anticompetitive video distribution arrangements through a legally sustainable, expeditious, case-by-case review," Genachowski continued.
Time Warner Cable, which rolled out two regional sports networks in the Los Angeles Oct. 1 to showcase Los Angeles Laker basketball games, had no comment on the FCC's decision, Maureen Huff, a TWC spokeswoman said.
The National Cable & Telecommunications Association, which has been lobbying against the program access rules, also had no comment, according to Brian Dietz, an NCTA spokesman.
Financial analysts said the FCC's decision was generally good news for owners of cable systems and could spur some — including TWC — to add more TV networks to their stables.