Fidel Castro, Cuba's revolutionary leader and former president, has died at 90, his brother Raul Castro announced on Friday night.
Castro was president of Cuba from 1976 to 2008, when he stepped down to allow his brother to take power. He was previously prime minister from the Communist revolution in 1959 to 1976.
Raul Castro announced Fidel's death of Cuban national TV, saying: "The commander in chief of the Cuban revolution died 10.29 p.m. tonight."
Also Read: Paramount Wins Auction for Cuban Mafia Book 'The Corporation' (Exclusive)
Información de Raúl Castro sobre el fallecimiento del líder de la Revolución Cubana #FidelCastro #Cuba pic.twitter.com/vSwWY3gdiH

— CubanitoenCuba (@CubanitoenCuba) November 26, 2016
President Obama ended five decades of frozen U.S.-Cuba relations two years ago, reestablishing diplomatic relations with the Communist island. A 56-year economic embargo that has crippled Cuba financially remains in place.
Also Read: Bidding War Erupts Over Cuban Mafia Book 'The Corporation' (Exclusive)
Castro was a legendary, charismatic and, some thought, an immortal figure in world politics. He remained a vestige of the Cold War long after the Soviet Union had fallen. Despite his status as a mortal enemy of the American government, he was a figure of fascination for many in Hollywood, including director Oliver Stone and actor Sean Penn. Other luminaries, ranging from Kevin Costner to Steven Spielberg to Charlize Theron also had audiences with the leader.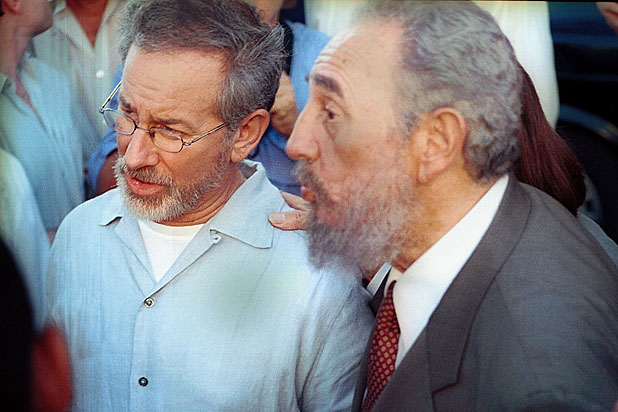 Castro led a Communist revolution that with, other revolutionaries including Che Guevara, toppled the U.S.-backed leader Fulgencio Batista in 1959. Castro took power of the tiny island off the coast of Florida and for decades afterwards, thumbed his nose at the United States and maintained a tight alliance with the Soviet Union.
The United States regarded Castro as a dangerous threat and unsuccessfully attempted to assassinate him or depose him through military operations like the failed Bay of Pigs in 1961. Castro never faltered from criticizing the U.S. while championing his Socialist state for anti-imperialism and humanitarianism.
Also Read: Rolling Stones Invade Cuba: Watch the Band Play 'Satisfaction,' 'Jumpin' Jack Flash' (Video)
For its part, the United States criticized Castro's repression of his domestic opponents, stifling of free speech and disregard for human rights.
But the isolation of Cuba left his country impoverished and economically stagnant, a situation that is only now beginning to change with the rapprochement of the United States.
Raul Castro said that Fidel Castro's remains will be cremated.