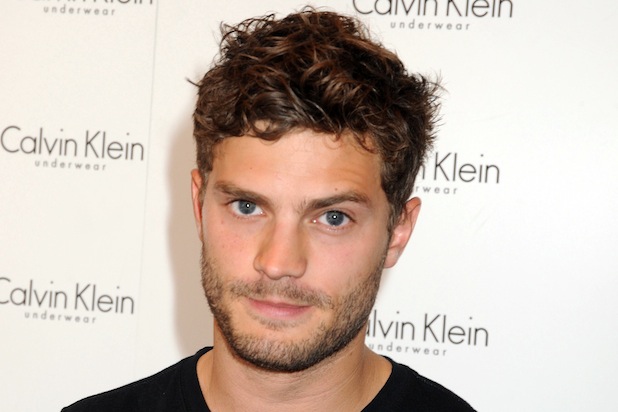 After a steamy screen-test with Dakota Johnson, Irish actor Jamie Dornan has landed the part of Christian Grey in "Fifty Shades of Grey," TheWrap has learned.
Dornan was among a handful of young heartthrobs to read for the role late last week, an individual familiar with the project told TheWrap. His main competition appears to have been up-and-coming Australian actor Luke Bracey.
Universal and Focus Features declined to comment.
Also read: 'Fifty Shades of Grey': Jamie Dornan, Billy Magnussen First to Test for Christian Grey
Dornan is in negotiations to replace Charlie Hunnam, who dropped out of the hotly-anticipated project last week, citing a lack of preparation time due to his TV schedule for "Sons of Anarchy." The FX series wrapped production on Oct. 21, while "Fifty Shades" doesn't head into production until Nov. 1, though it's unclear whether Christian Grey will be needed on set at the beginning of the shoot. With Jennifer Ehle cast as Anastasia Steele's mother, it's possible those mother-daughter scenes could be filmed first.
See photos: 16 Actor Replacements That Worked – Can 'Fifty Shades' Pull it Off Too?
In the week since Hunnam's departure, multiple individuals close to "Fifty Shades" told TheWrap that Hunnam was never really gung-ho about the project and that his manager, Cynthia Pett, ushered him into the risky role, which had less upside for an established star. Not only does Hunnam lead a hit cable series but "Pacific Rim" grossed $407 million worldwide.
See video: 5 Jamie Dornan Clips Before He Became Christian Grey
Hunnam is also a writer whose vampire movie "Vlad" is in development at Summit and Plan B Entertainment, the production company owned by Pett-repped Brad Pitt. Insiders say that Hunnam approached the studio with several notes on Kelly Marcel's screenplay, which she adapted from E L James' bestselling novel. It's unclear whether Universal ordered a draft that addressed Hunnam's now-irrelevant concerns, though Patrick Marber was recently hired to polish the screenplay.
Sam Taylor-Johnson is directing "Fifty Shades of Grey" for Universal and Focus. Mike De Luca and Dana Brunetti are producing the movie, which is scheduled to hit theaters on Aug. 1, 2014.
See photos: Jamie Dornan Is Christian Grey – Meet the Sexy Star of 'Fifty Shades of Grey'
Dubbed "the Golden Torso" by the New York Times in 2006, 31 year-old Dornan is a good physical match for 28 year-old Grey, and being a relative unknown may end up helping the public accept the actor in the role of the kinky billionaire, who millions of readers imaged differently. The imagination is a powerful thing, and an audience with no pre-conceived notions of the actor playing Grey could tailor their own fantasizes to Dornan's relatively mysterious cinematic identity.
Also read: How 'Fifty Shades of Grey's' Charlie Hunnam Casting Debacle May Help the Film
One of the obstacles that Dornan and his agents had to overcome is the fact that his wife, Amelia Warner, is pregnant with their first child. While some in the press have suggested he turn down the role to help her through the pregnancy, the lead in "Fifty Shades" represents an incredible opportunity for Dornan that would help him provide for his growing family for years to come. Not only are Universal and Focus expected to put three "Fifty Shades" movies into production in the next five years, but for better or worse, Dornan would immediately become a tabloid fixture. He'll likely be on the cover of every major magazine in that span and as long as he steers clear of the red carpet at the Razzies, he'll develop a loyal fanbase that will ensure a degree of success for the next decade and perhaps longer.
See video: Charlie Hunnam Is Out, Josh Gad Is 'All In' for 'Fifty Shades of Grey' Role
Dornan, whose sole major movie credit is Sofia Coppola's divisive 2006 drama "Marie Antoinette," can play both sides of good and evil. He played Sheriff Graham (aka the Huntsman) on ABC's fairy tale series "Once Upon a Time," as well as a twisted serial killer in the acclaimed BBC series "The Fall," which is currently available to watch on Netflix.
Dornan, who perhaps fittingly was born the town of Holywood in Northern Ireland, is a former rugby player and Calvin Klein model who honed his acting craft in London. It was there that he dated Keira Knightley, who introduced him to her agent. Dornan is now represented by UTA and United Agents.