Film Independent, the non-profit organization that produces the Spirit Awards and the Los Angeles Film Festival, has announced the time and place for next year's LAFF, and also selected the filmmakers who will be included in its signature diversity mentorship program, Project: Involve.
The film festival will run from June 16 through June 26, and will return to downtown Los Angeles for the second year in a row. This year's festivalgoers braved the commute downtown and an opening-night conflict with the Lakers' championship-clinching game to give generally positive reviews to the new location, which is centered around the L.A. Live complex and the Regal Cinemas L.A. LIVE Stadium 14 multiplex.
Submissions to the festival will be accepted beginning November 1 for feature films, shorts and music videos. Early deadlines for submission begin on December 3, with the final deadline for shorts and music videos falling on February 11, 2011, and for feature length narrative and documentary films on February 24.
Submissions can be made through Withoutabox.com.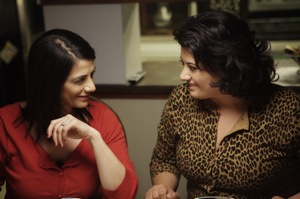 Film Independent also announced that the mentors and guest speakers for this year's Project: Involve program will include "Never Let Me Go" director Mark Romanek, "Marley & Me" director Scott Frank, "Just Wright" writer Michael Eliot, "CSI" editor Augie Robles and Focus Features executive Adriene Bowles.
Project: Involve runs from October through June each year, and is designed to foster the careers of filmmakers from communities typically underrepresented in the film industry. Past participants in the project include director Jon Chu ("Step Up 3D"), producer Effie T. Brown ("Rocket Science") and director Cherien Dabis (photo above, "Amreeka").
Project: Involve participants are accepted into a variety of tracks, including production, direction, cinematography and a second-year "industry track" that trains those who plan to become agents, managers and distribution or development executives.
This year's participants:
Directing:
Ted Chung
Dalila Droege
Tani Ikeda
Logan Kibens
Raymond Lai
Courtney Marsh
Anthony Onah
Geoffrey Quan
Writing/directing:
Huy Chau
Daniel Davila
David Martin-Porras
Andres Torres-Vives
Tony Wei
Screenwriting:
Tasha Moore
Stacey Parshall Jensen
Lex White
Producing:
Natasha Atalla
Frances E. Chang
Jana Diaz Juhl
Joy Ganes
Sandra Varona
Nicole Vinnola
Cinematography:
Carmen Cabana
Eunsoo Cho
Nausheen Dadabhoy
Roberto Gudino
Richard Kim
Editing:
Cristina Malavenda
Industry Track:
Natalie Arps-Bumbera
Ebyan Bihi
Christopher Chou
Mercedes Cooper
Carl Martin