Nicollette Sheridan's firing from "Desperate Housewives" was approved by ABC months before Marc Cherry allegedly slapped the actress, former ABC president Steve McPherson testified on Friday.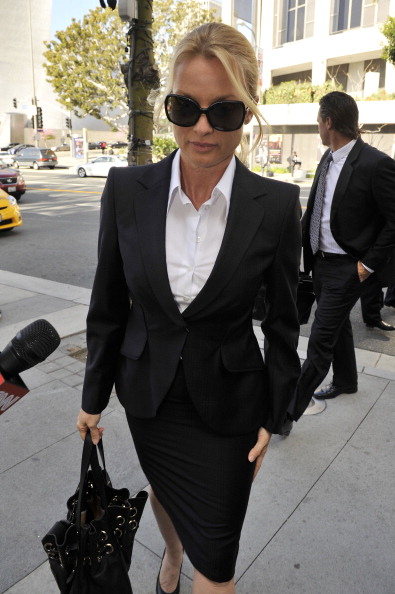 Also read: Nicollette Sheridan's Lawyer: Actress Feared Retaliation for "Nice Wallop"
Taking the stand at the $6 million wrongful termination trial between Sheridan and her former bosses, Marc Cherry and ABC, McPherson recalled a May 22, 2008 meeting at which Cherry "let us know he wanted to end [Sheridan character] Edie's arc and kill the character off."
McPherson added that he gave his blessing to Cherry's plan.
"I was running the network and I'd have to sign off on that, and I gave them my approval," McPherson told the court.
Asked why there was no physical documentation of the meeting, McPherson said that it was an effort to keep the meeting "confidential."
Also read: 'Desperate Housewives': Nicollette Sheridan's Attorney Calls Surprise Death Revelation 'Tactical'
In her suit against Cherry and ABC, Sheridan maintains that she was fired in retaliation for reporting a fall 2008 incident on the set during which Cherry struck her. During the trial, Sheridan characterized the strike as a "nice wallop," while Cherry said he was merely trying to give her stage direction.
On cross-examination, Sheridan attorney Mark Baute barraged McPherson with questions about his abrupt departure from ABC, and his severance package — seeming references to rumors that McPherson had left ABC amid a sexual-harassment claim. The questions were shot down on objection.
During Friday's proceedings, Lynne Volk, a human resources employee at Touchstone, told the court that, during a harassment seminar on Oct. 1, 2008 — shortly after the incident occurred — Sheridan failed to bring up the incident to her.
Volk also said that, after a series of interviews about the incident with "Housewives" staff, she considered the case "closed" because the story was consistent among the people she'd spoken to, and Volk had "received no further complaints."