The New York Times published on Wednesday its second bombshell of a story on inhumane working conditions at Apple's Chinese manufacturers. So how will the world's most valuable company, notorious for its secrecy, respond?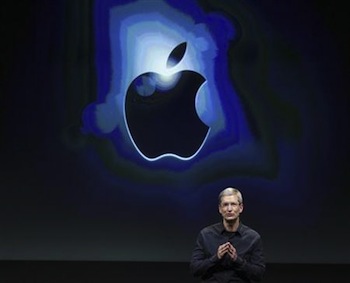 So far, with silence.
The Times profiled Apple's extensive use of overseas manufacturers on Sunday, but after Apple's astonishing earnings report on Tuesday, the Times returned with a follow-up report far more damning than its previous one.
Reporters Chares Duhigg and David Barboza spoke with several former Apple executives, employees and other individuals who have worked with the company, many of whom detail, in the Times' words, the "human cost" of making products like the iPad.
Also Read: Apple's Biggest Quarter Ever: 37M iPhones, 15M iPads, $46B in Revenue
"We could have saved lives, and we asked Apple to pressure Foxconn, but they wouldn't do it," a former consultant told the Times. Foxconn is a major manufacturer that supplies to companies including Apple and Hewlett-Packard.
Despite being given access to the Times' findings, Apple declined to comment for either of the paper's stories. It almost never comments on any stories, good or bad. But that may have to change.
Foxconn has been subject of damning reports before, but few with as much in-depth reporting and as much harrowing evidence. Moreover, this is now in the New York Times, the most high-profile of news outlets, and the stories are already subject to Pulitzer Prize speculation.
This latest story uncovers everything from underage labor to hazardous waste to toxic chemicals. It even touches on large-scale explosions at factories.
Foxconn denied many of the reported conditions, and Apple says it is working toward improvements. It conducts annual audits, and CEO Tim Cook has insisted that conditions are getting better.
Yet the consultant quoted in the Times said that Apple is less responsive to reports of poor safety conditions than other companies.
"Companies like H.P. and Intel and Nike push their suppliers," the consultant said. "But Apple wants to keep an arm's length, and Foxconn is their most important manufacturer, so they refuse to push."
A former executive told the Times, "If you see the same pattern of problems, year after year, that means the company's ignoring the issue rather than solving it."
Cook said on Tuesday's earnings call that China was a top region for potential growth, and it appears Apple thinks it could have made even more than the $46.3 billion in revenue it announced Tuesday if its manufacturers could have produced more.
Apple is notorious for its secrecy. Its executives rarely – if ever – grant interviews. It launches its products at its own private events where it can try to control who attends.
The company is even private about opening its revenue-churning stores, and its own employees must be careful with whom they speak.
The Times has now published two revelatory, reproving pieces of journalism in less than a week that involve people intimately familiar with at least one part of the Apple supply chain.
It appears Cook, new to the CEO job, has a tough new challenge ahead — besides how to spend all that cash.