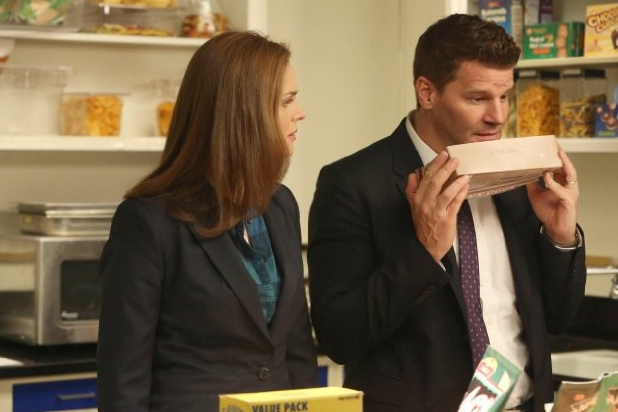 Fox renewed two of its veteran shows, "Bones" and "Kitchen Nightmares," on Wednesday.
The upcoming seasons with be the tenth for the former, and the sixth for the latter. "Bones" will shift to Monday nights beginning on March 10. This coming season, the drama will reach its milestone 200th episode.
The network also said on Wednesday that sci-fi drama "Almost Human" will come to the end of its original 13-episode run on Monday, March 3. The future of the J.H. Wyman-run series has not yet been decided, Fox said.
Also read: 'Bones' Showrunner Promises One Wedding, Lots of Dead Bodies in Season 9
"Over the course of nine seasons, 'Bones' has grown from a hit crime procedural into a beloved pillar of our lineup that resonates with fans in a way that only the best of shows can," said Kevin Reilly, chairman of entertainment, Fox Broadcasting Company. "Our viewers have embraced Emily, David and the entire cast and characters of 'Bones' as their very own, and I think they are going to love what Hart Hanson and Stephen Nathan have planned for Season 10!"
"Bones" comes from Far Field Productions and Josephson Entertainment in association with 20th Century Fox Television. The series was created by Hanson, who executive produces the show along with Nathan, Barry Josephson, Ian Toynton and Jonathan Collier.
Also read: Fox Orders 6 Episodes of 'Weird Loners,' 3 Other Comedy Pilots
"Kitchen Nightmares" is a co-production of ITV Studios America and Optomen in association with A. Smith & Co. Productions. Arthur Smith, Kent Weed, Patricia Llewellyn, Gordon Ramsay and Lindsay Kugler executive produce.
"Almost Human" is produced by Bonanza Productions Inc., in association with Bad Robot Productions and Warner Bros. Television. The series was created by Wyman, who wrote the pilot. The series is executive-produced by J.J. Abrams, Wyman and Bryan Burk. Kathy Lingg and Reid Shane of "Fringe" are co-executive producers. Brad Anderson (also of "Fringe") directed and served as co-executive producer on the pilot.