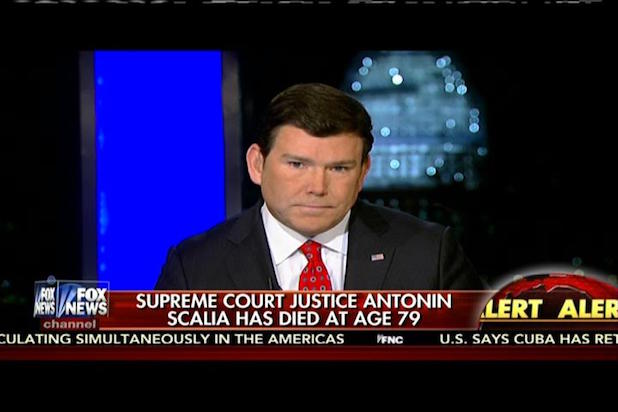 Kobe Bryant and Rick Grimes are no match for Bret Baier and Megyn Kelly.
Fox News Channel finished first in both primetime and total day viewers among all basic cable networks for the week of Feb. 8-14. FNC has now topped basic cable in four consecutive weeks.
Fox News finished ahead of AMC, which featured the midseason premiere of "The Walking Dead," and TNT, which aired the NBA All-Star Game. USA and HGTV join Fox News, TNT and AMC among the Top 5 cable networks in primetime.
Also Read: 'Fuller House' Cast Gives Donald Trump a Pep Talk in 'Tonight Show' Sketch (Video)
Fox News averaged 2.4 million viewers in primetime, with the New Hampshire primary coverage and news surrounding Justice Antonin Scalia's death attracting many viewers.
Coverage of the New Hampshire primary dubbed "America's Election Headquarters," anchored by Baier and Kelly, averaged 4 million viewers, finishing as the second-highest-rated primary night in cable news history.
The network's coverage of Scalia, also anchored by Baier, averaged 1.6 million viewers, beating CNN (884,000) and MSNBC (426,000) combined on Saturday as the news was breaking. CNN finished the week No. 9 in primetime and No. 11 in total day, while MSNBC finished No. 18 in primetime and No. 17 in total day.
Nickelodeon, Adult Swim, HGTV and USA join Fox News in the Top 5 among total day viewers.
A new Suffolk University/USA Today poll added to Fox News' big week: 28 percent of U.S. voters named FNC the most-trusted source in TV news, according to the poll. "Undecided" finished second with 21 percent, while CNN picked up 13 percent.