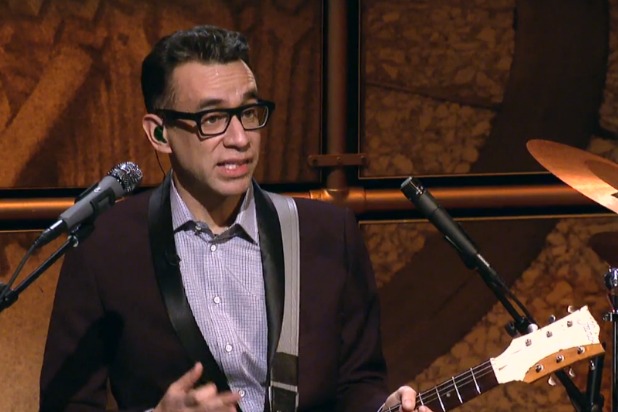 Only a week into their partnership, there's trouble between Seth Meyers and Fred Armisen: The "Late Night" had to accuse his bandleader of fibbing.
"I talk to you, and I feel like you're just making things up," Meyers said on Friday's episode. "I feel like you're not being honest with me and what happens is you brag to people about things that aren't true backstage."
Also read: Ratings: Seth Meyers Ties Top 'Late Night' Wednesday in 5 Years
Case in point: Armisen claimed that when Lena Dunham guested on the show Thursday, she agreed to use one of his songs as the new theme for "Girls."
"It's absolutely true," Armisen said, and played the song to prove it. The only wrinkle: The song is half an hour long, which is also the length of the show.
Also read: Seth Meyers Goes for Craftsmanship Over Flash in 'Late Night' Debut (Video)
"Are you adjusting at all?" Meyers asked.
"I might ask them to adjust their show," Armisen said.
Look for the great new song on Season 4 of "Girls," in which each episode will be eight hours long.
Watch the video: