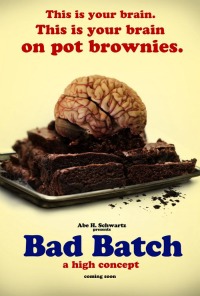 From nightly news stories on medical marijuana legislation to hit films like Pineapple Express, whether you like it or not, pot is hot.
As Californians arrive closer to the Proposition 19 vote for medical marijuana legalization on November 2, advocates are fighting fiercely for the cause as opponents are scrambling to impose regulations. This polarity is reflected in movies, too, with the substance most commonly depicted as either a hilarious holy grail or a gateway to harder, darker drugs.
I wrote, directed and produced "Bad Batch," my first feature film, that's about to premiere in Los Angeles. The movie's an honest depiction of what it's like to get too high and paranoid, just in time before California votes on marijuana's future.
The story follows three college students who meet over Facebook and then proceed to have intensely paranoid pot brownie highs in close to real time one evening. Equal parts comedy and drama, "Bad Batch's" public premiere is this Thursday night at 7:30 at Downtown Independent Theater.
Tickets are free, but going fast. If the movie seems like something you'd be into, feel free to come out and bring a friend or two. We just ask that you please register through our Eventbrite invitation so we can keep a close head count. The premiere party will include live music straight from the movie's original soundtrack, booths presenting info on both sides of Prop 19, and a Q&A with the cast and crew following the 70 minute feature.
If you'd like to see the movie but can't attend in person, the entire film and event will stream live at PotBrownies.net (the "Bad Batch" homepage) via ustream.tv. Are you really that busy this Thursday night? Consume "Bad Batch" for free!