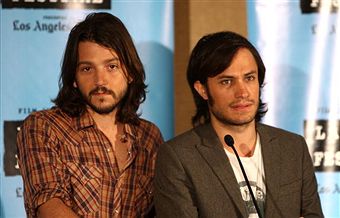 Gael Garcia Bernal and Diego Luna, the Mexican stars of "Y Tu Mama Tambien" and "Rudo y Cursi," will reunite once again for Will Ferrell's Spanish-language comedy "Casa de mi padre" ("House of My Father"), according to the Hollywood Reporter.
Matt Piedmont is directing the movie, which will be told in the style of an overly dramatic telenovela and feature English subtitles. Plot details are being kept under wraps for now, but Luna will be playing Ferrell's brother, while Garcia Bernal will lend support as a family friend.
Genesis Rodriguez has also joined the cast as Ferrell's love interest, and Hector Jimenez ("Nacho Libre"), Adrian Martinez ("It's Kind of a Funny Story") and Pedro Armendariz Jr. are set to co-star.
It's an innovative idea to cast one of Hollywood's biggest comedic actors in a foreign-language film, and Deal Central (which first reported about both the project and Ferrell's involvement) is quite curious to see if this experiment will work. It's entirely possible, as the Hispanic audience is rapidly growing despite the fact that Hollywood underserves it year in and year out.
Ferrell is producing with his Gary Sanchez Prods. partners Adam McKay, Kevin Messick and Jessica Elbaum, as well as Emilio Diez Barroso and Darlene Caamano Loquet of NALA Films, which is fully financing the project.
Piedmont is a former Emmy-winning writer for "Saturday Night Live," and during the closing credits of his final show in 2002, Ferrell held up a sign that read "Matt Piedmont is the best in the biz." Piedmont also wrote and produced "The Showbiz Show with David Spade," and has directed segments of Ferrell and McKay's hit-and-miss (mostly the latter) HBO series "Funny or Die Presents …"
Garcia Bernal recently appeared opposite Amanda Seyfried in "Letters to Juliet," while Luna was most recently seen alongside Sean Penn in "Milk."
Both actors are represented by WME.