The Hawaii premiere for 2001's "Pearl Harbor" has become the stuff of Hollywood folklore.
Disney spent $5 million to screen the WWII drama aboard the flight deck of the U.S.S. John C. Stennis, where 2,000 guests saw eight Navy SEALs parachute from a Black Hawk helicopter and a 15-minute firework display set to the music of the Honolulu Symphony.
As with everything else in the current economy, those were the good old days.
While studios may still be splurging on a few of the major summer tentpoles like "Star Trek" and the sequel to "Night at the Museum," the big bashes are fewer and farther between.
"I have not heard of a single movie premiere that we're looking at or bidding on this summer," said Jeffrey Best, whose Best Events has planned affairs including the "Ocean's 11" premiere and an Oscar party hosted by Madonna and Demi Moore. "They used to have budgets in the seven figures, but it's 50 to 60 percent lower now. If you're gonna go spend seven figures on something, it might be more effective to take that and do 10 premieres."
What studios have figured out is that they can get bigger bang for their buck by focusing less on excessive events that exist just to stroke cast, crew and invited guests — and instead focus on the media attention that the red carpet can bring.
As a publicity vehicle, the red carpet gives the stars a chance to talk about the movie and show off their enthusiasm for a film and their designer gown in a simple, quick way. And if photos of those gowns end up in a weekly tabloid or on a nightly entertainment television show, a potential-audience member is frequently being reminded of the movie they may want to go out and see over the weekend. (See slideshow of "Star Trek," "Angels & Demons" and "Wolverine" red-carpet fesitivities.)
A perfect example is Sony, which went all out for a photo-op "Angels & Demons" premiere in Rome on Monday — but scheduled none of the once-usual post-screening festivities. Similarly, at last month's premiere of "Hannah Montana: The Movie," guests fawned over Disney Channel stars like Miley Cyrus on the red carpet — but instead of a fancy after-party across Hollywood Boulevard at Disney's usual venue, the Highlands, they were treated to a casual barbecue in their seats at the El Capitan.

And for April's "The Soloist" premiere, the DreamWorks/Universal film had a simple pre-reception, with an after-party at the Chateau Marmont — for cast-only.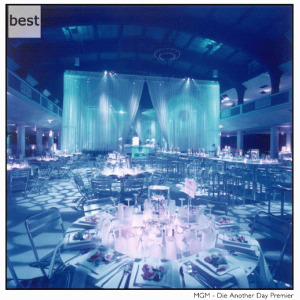 "Everyone's going through their list and heeding studio calls in cutbacks," said Jeanne Wolf, the West Coast editor for Parade Magazine who has covered the Hollywood circuit for years. "There's more executive oversight and people who have to answer for the budget. So people will be invited, but they're not being offered to have limos sent for them. Less stars are being flown in and there are less lavish menus."
"There was a day and time that every single movie seemed to have a premiere," said an executive at a major studio. "Now we may not necessarily do a premiere on every movie, but on our big tentpole properties — those will get the full-blown treatment."
Paramount's "Star Trek" was celebrated with a large party at a funky L.A. industrial space. Fox is hosting its premiere for "Night at the Museum: Battle of the Smithsonian" at the museum itself later this month, and it's rumored that July's "Ice Age: Dawn of the Dinosaurs" will also be a large-scale party.
But even these may not be quite what they used to be.
"For a film like 'Star Trek' or 'Transformers,' it's sort of hard to have a small premiere when a thousand people are screaming to get in," said a publicity executive who has planned a number of premieres. "But people are being smarter about spending at those parties. The first thing to go is decor. You don't need to re-create the world of 'Wolverine,' but you have a celebration. You don't have shrimp but you have pasta."
"The event is the party," said the studio exec. "The parties are nice, but they are neither here nor there. If you weren't there, all you see is the red carpet coverage."
Many say that the excess often found at glamorous Hollywood shindigs can also seem unattractive during a time when many are challenged financially.
"Part of it is budget, but part of it is impression," said Parade's Wolf. "Hollywood can't really do a reversal and serve brown lunch bags at their premieres, but on the other hand, it doesn't seem right or in sync with your audience to be spending grand amounts of money."
"It's somewhat garish in these times when so many people are struggling and being foreclosed on," echoed Best, the event planner. "'Harry Potter' comes from Time Warner, which is a public company, and the stock value isn't what it used to be for some investors. Is it prudent to go out and spend money on a party? Does a party make a film better or worse? I'm not sure it makes a difference."