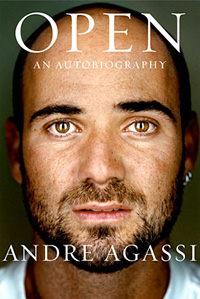 Well, that explains the DayGlo.
Tennis legend Andre Agassi — eight-time Grand Slam champion, former world number one (and one of my boyhood idols) — admits in an upcoming memoir that he did crystal meth.
The book, "Open," is scheduled to be published on November 9 by Knopf, which had bid a reported $5 million for the memoir.
In tennis' answer to Mackenzie Phillips, Agassi writes that he was offered meth by an assistant (who he calls "Slim") in 1997 – then ranked 141 and anxious about his upcoming wedding to Brooke Shields – and accepted it. Dozens of times.
Agassi is giving "60 Minutes" the exclusive post-meth admission interview; Sports Illustrated and People bought first serial rights in the U.S., and are publishing excerpts this week.
One problem: thanks to the Times of London, the key passages are already out there. Like this one, via the Miami Herald:
Slim is stressed too. … He says, 'You want to get high with me?' 'On what?' 'Gack.' 'What the hell's gack?' 'Crystal meth.' 'Why do they call it gack?' 'Because that's the sound you make when you're high . . . Make you feel like Superman, dude.'

As if they're coming out of someone else's mouth, I hear these words: You know what? F— it. Yeah. Let's get high. Slim dumps a small pile of powder on the coffee table. He cuts it, snorts it. He cuts it again. I snort some. I ease back on the couch and consider the Rubicon I've just crossed.

There is a moment of regret, followed by vast sadness. Then comes a tidal wave of euphoria that sweeps away every negative thought in my head. I've never felt so alive, so hopeful, and I've never felt such energy. I'm seized by a desperate desire to clean. I go tearing around my house, cleaning it from top to bottom. I dust the furniture. I scour the tub. I make the beds.
When Agassi was informed of a failed drug test by an ATP tour official, he writes:
There is doom in his voice, as if he's going to tell me I'm dying … He reminds me that tennis has three classes of drug violation. Performance-enhancing drugs … would constitute a Class 1, he says, which would carry a suspension of two years. However, he adds, crystal meth would seem to be a clear case of Class 2. Recreational drugs. That would mean a three-month suspension.

My name, my career, everything is now on the line. Whatever I've achieved, whatever I've worked for, might soon mean nothing. Days later I sit in a hard-backed chair, a legal pad in my lap, and write a letter to the ATP. It's filled with lies interwoven with bits of truth.

I say Slim, whom I've since fired, is a known drug user, and that he often spikes his sodas with meth, which is true. Then I come to the central lie of the letter. I say that recently I drank accidentally from one of Slim's spiked sodas, unwittingly ingesting his drugs. I ask for understanding and leniency and hastily sign it: Sincerely.
But perhaps more shocking is this revelation: Hair loss forced Agassi to wear a fake Mohawk (a literal faux-hawk) at the French Open.