Burly, jovial fantasy author George R.R. Martin shared a love feast Thursday afternoon in Comic-Con's Ballroom 20 with fans of the HBO favorite "Game of Thrones" at the annual gathering Martin described as "the geek capital of the world."
The Martin series, described onstage by co-show-runner David Benioff (with D.B. Weiss) as "crack on paper" has been the thinking fan's sword-and-mukluk epic since it began winning awards in 1996; this year's 10-episode arc took a big bite out of the series that began with "Game of Thrones" and is still being written under the overarching title "A Song of Ice and Fire."
See all TheWrap's Comic-Con Coverage here.
Drawing perhaps the warmest welcome from the crowd was Peter Dinklage, who plays an extremely wry and horny little person who's one of the more likeable bad eggs in the remorselessly cruel, incest-prone House Lannister clan.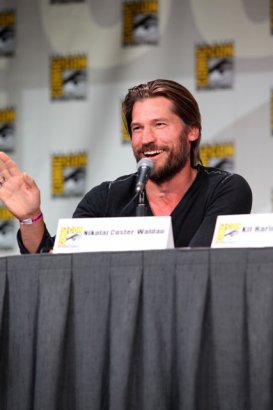 Joined by the brother-sister team (did we mention the incest thing?) of Jamie Lannister and Queen Cersei in the person of Nikolaj Coster-Waldau (right) and Lena Headey, they anchored the panel that also included Brit charmer Kit Harington (as Jon Snow, the bastard son of Sean Bean, not present and shockingly deceased in the story), discovery Emilia Clarke, and outsize, muscular, compulsively talkative Jason Momoa, who play the wackiest, dialect-spouting, heart-eating, tongue-ripping couple in all of Westeros, and also all of cable TV.
Momoa (above) scolded Martin for writing a character who dies a little too early in the series — "I hated you, man" — and produced groans (but an astonished laugh from the game Clarke) when he noted how grateful he was to play a character who can force himself on beautiful women "and then have them fall in love with you."
Benioff teased Momoa about an apparently spontaneous dance that was part of the big lug's audition, while Dinklage, asked what scene he would like to see the series end with, suggested "a dance number."
The audience seemed to have smart, attractive, late-teen women like shark's teeth, and when one asked Clarke how she managed to bring both ferocity and realism to her part, heard back, "It's women — we're good, strong, powerful, we're sexy — just own it, be true to yourself."
So wise and amiably put was this thought that the entire room of 4500 (many more were turned away when space ran out) fell silent for a second and then ramped up into applause that was joined by those onstage.
Martin accepted what's become the pro forma compliment about his willingness to kill off important characters, but insisted, "I mourn all the characters as I kill them — I tell myself, it's not me killing them, it's the other characters."
In closing the panel, Martin promised some more controversial rubouts in coming episodes (which Benioff and Weiss are immediately flying to Ireland to commence supervising for the show's second season). Perhaps forgetting about the device-friendly network offshoot HBO GO, he vowed to leave the country when those air, "To some place that doesn't actually have TV yet."