George McGovern, the Democratic Party's presidential nominee in 1972, died early Sunday morning in Sioux Falls, South Dakota. He was 90 and had been in hospice care in the last week.
His family announced last week that the former South Dakota senator was "unresponsive" and had been in declining health for several months.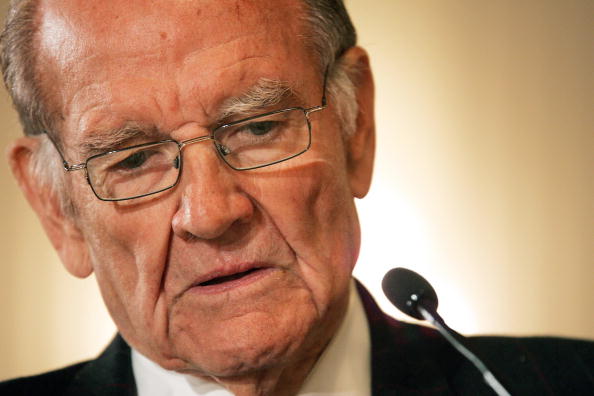 McGovern's bid for the White House ended in a landslide defeat to President Richard Nixon, but his opposition to the Vietnam War galvanized Hollywood and helped turn the entertainment industry into a major fundraising power for Democrats.
Entertainers like Frank Sinatra and Paul Newman had previously hit the campaign trail for candidates like John F. Kennedy and Eugene McCarthy, but never on this level. With McGovern, stars like Shirley MacLaine, Warren Beatty, Jack Nicholson and Gene Hackman rallied to the plain-spoken Midwesterners' cause and tried to attract the youth vote to come out in force during the election. Beatty helped organize a massive, star-studded concert at the Forum in Inglewood on behalf of the candidate that featured performances from Barbra Streisand, James Taylor and Carole King.
"Before Warren came along with his Glamor Brigade there was no way we could compete with their $1,000-a-plate Agnew-Reagan sit-down dinners," a McGovern aide, speaking of Nixon's running-mate Spiro Agnew and then California Gov. Ronald Reagan, told the Village Voice, at the time.
McGovern's campaign was hampered by his handling of the selection of Missouri Sen. Thomas Eagleton to be his running mate with a minimal background check. Eagleton withdrew after it came to light that he had undergone shock therapy while being treated for nervous exhaustion and depression. R. Sargent Shriver took his place on the ticket.
Despite Tinseltown's enthusiasm, the Democratic Party never fully coalesced around McGovern's grassroots campaign and the candidate went down to a crushing defeat. He managed to score only two electoral vote victories in Massachusetts and Washington, D.C. and lost the popular vote to Nixon, 61 percent to 37 percent.
After Nixon's presidency collapsed in the Watergate scandal, stickers popped up on cars across America saying: "Don't Blame Me, I Voted for McGovern."
McGovern would launch another bid for the presidency in 1984 with the goal of pushing the party in a more liberal direction.
He served as a member of the U.S. House from 1957 to 1961 and was a U.S. senator from 1963 to 1981, where he was active on agricultural and defense issues and helped lead his party's left wing. After losing his seat in 1980, he taught, opened a failed hotel and become increasingly active in issues of global hunger. In 1998, he was named United States Ambassador to the United Nations Agencies for Food and Agriculture by President Bill Clinton.
In 2000, Clinton awarded him the Presidential Medal of Freedom, the nation's highest civilian honor.
McGovern was born in Avon, South Dakota on July 19, 1922. He served in the Army Air Forces in Europe during World War II and was awarded a Distinguished Flying Cross. After the war, he graduated from Dakota Wesleyan University.
His wife Eleanor died in 2007. They had five children.
Their daughter Teresa struggled with alcoholism for years. She died of hypothermia in 1994 after collapsing into a snowbank in Madison, Wisconsin while drunk. Two years later, McGovern wrote an unsparing memoir about his inability to get his daughter to become sober, entitled "Terry: My Daughter's Life-and-Death Struggle with Alcoholism" and used the proceeds to establish the Teresa McGovern Center, which focuses on addiction issues.