The animation distributor GKIDS, an unexpected heavyweight in last year's Oscar animation race, is qualifying four different films for the Oscars this year.
By doing so, they've pushed the animation field over the number required for a full slate of five nominees.
GKIDS announced on Tuesday that it plans to give Oscar-qualifying runs to Remi Bezancon and Jean-Christophe Lie's "Zarafa," a French hit about the giraffe given to Charles X of France by the Pasha of Eqypt; Joann Sfar and Antoine Delesvaux's "The Rabbi's Cat," a French film set in the 1930s and based on Sfar's graphic novel; Jean-Francois Laguionie's "Le Tableau" (below), a French parable with what GKids said is a "painterly style"; and Goro Miyazaki's "From Up on Poppy Hill" (above), the top-grossing Japanese release of 2011.
Those qualifying runs will come on the heels of the New York-based distribution company's great success last year, when it scored nominations for Fernando Trueba's "Chico & Rita," a Spanish-made film set in the world of Cuban jazz, and for the French spy caper "A Cat in Paris."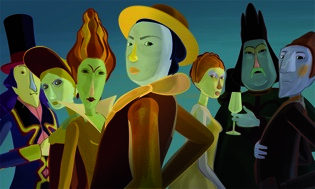 Those films nudged out more mainstream competitors like Steven Spielberg's "The Adventures of Tintin" and Pixar's "Cars 2" to receive nominations and go up against DreamWorks Animation's "Puss in Boots" and "Kung Fu Panda 2" and the eventual winner, Gore Verbinski's "Rango."
They also provided a clear sign that the Academy's animation voters, who are divided between the Short Films and Feature Animation Branch and the Academy at large, are receptive to smaller and artier international releases, particularly in the nomination phase.
"It has truly been a banner year for international animation and we are extremely excited about our upcoming release slate," said GKIDS president Eric Beckerman in a press release announcing the releases. "All four films are unique and wonderful, each in their own way, and we look forward to sharing them with Academy voters and audiences across North America."
GKIDS' four qualifying 2012 releases will push the number of films known to be qualifying to 17, enough to trigger an automatic move to five nominees in the Best Animated Feature category.
This year's Oscar field includes six studio films that have already received qualifying runs: Universal's "The Lorax," Sony and Aardman's "The Pirates: Band of Misfits," DreamWorks Animation's "Madagascar 3," Disney/Pixar's "Brave," Blue Sky and 20th Century Fox's "Ice Age: Continental Drift" and Laika and Focus' "ParaNorman."
Due out later in the year are "Hotel Transylvania" from Sony Pictures Animation, Tim Burton's stop-motion "Frankenweenie" and Rich Moore's "Wreck -It Ralph" from Disney and the William Joyce adaptation "Rise of the Guardians" from DreamWorks Animation.
Also scheduled to receive a qualifying run is "A Liar's Autobiography: The Untrue Story of Monty Python's Graham Chapman," in which more than a dozen different animation houses interpret sequences from the (often untrue) autobiography of the late Python member Chapman.
UPDATE: According to Kris Tapley of In Contention, Disney has confirmed qualifying runs for both "Secret of the Wings," a new Tinker Bell movie, and "Arjun: The Warrior Prince."
Eight-to-12 eligible films are required for a field of three nominees, 13-to-15 for a field of four, and 16 or more for a field of five. The four releases from GKIDS will push the field over that last benchmark.
In the 11 years of the Animated Feature category's existence, the field has consisted of five nominees three times, including twice in the last three years.
In close years, companies like Disney and Fox will sometimes qualify at least one of their otherwise direct-to-video releases in order to bump up the number of competing films and create more nominees. Most years, foreign-made films that were not on the radar of most Oscar-watchers also receive releases and end up on the list of eligible entries.
GKIDS was founded in 2008, and also runs the New York International Children's Film Festival, an Oscar-qualifying festival for short films. On Monday, it announced that it had acquired the U.S. rights to the Cannes and Toronto entry "Ernest & Celestine," a French film based on the children's book series by Gabrielle Vincent.
NOTE: The original version of this story said that the four GKIDS releases will push the number of known qualifiers to 15. Since it was posted, additional information suggests that it will in fact push the number to 17. The story has been updated to add the two additional qualifiers.