(See TheWrap's Complete Coverage of the 2013 Golden Globes)
"Argo" slowed the momentum of awards front runners like "Lincoln" and "Life of Pi" at the 70th Golden Globes on Sunday, earning the Best Picture – Drama award for its dramatization of a true-life mission to rescue captured diplomats in Iran.
Meanwhile, "Les Miserables" stormed the barricades at the awards show, winning the Best Musical or Comedy award over the likes of "Silver Linings Playbook" and "Moonrise Kingdom."
Unlike the Academy Awards, the Globes honors the best of television as well. On that front, Showtime's spy thriller "Homeland" won the statue for Best TV Series – Drama, while HBO's coming-of-age chronicle "Girls" earned the prize for Best TV Series – Comedy.
Also read: Jodie Foster Comes Out, Defends Privacy
But the biggest moment of the show was not in any of the competitive categories. It happened as Jodie Foster accepted her Cecil B. DeMille Award for career achievement and came out as a lesbian. Social media sites erupted as the star of "Silence of the Lambs" defended her longtime decision not to comment publicly on her sexuality, while thanking her former partner, Cydney Bernard.
"I'm just going to put it out there, loud and proud … I am, uh, single," she said, to laughter.
She added that she was "kidding, but not really kidding," explaining that she had been a public figure since she began acting as a toddler and didn't want to share her personal life with the world.
"If you'd had to fight for a life that felt real and honest and normal against all odds, then maybe you too might value privacy above all else," Foster said. "Privacy. Someday, in the future, people will look back and remember how beautiful it once was."
Also read: Golden Globes: Complete List of Winners
"Argo"s' win was not the only upset of the evening. Ben Affleck, who was snubbed by Oscar voters on Thursday, made up for it at the Globes, by winning Best Director for his role in guiding the thriller to the big screen.
To capture the honor, Affleck bested Steven Spielberg ("Lincoln") and Ang Lee ("Life of Pi"), two of the directors who did make the Academy Awards shortlist, as well as Quentin Tarantino ("Django Unchained") and Kathryn Bigelow ("Zero Dark Thirty"), two who were similarly omitted.
It followed what has been a rough few days for "Lincoln," which saw Affleck pick up top prizes at the Critics Choice Awards that it had been favored to win, as sympathy has built in the industry for the actor-director's snub. Unlike in prior years, the Globes show is being held after the Oscar nominations were announced. The Academy of Motion Picture Arts and Sciences opted to move up the unveiling of Oscar nominees this year.
"Lincoln" wasn't shut out entirely. Winning Best Actor in a Drama for his role as the 16th president, Daniel Day-Lewis called Spielberg "a humble master with a quicksilver imagination" and thanked him for giving him "an experience I will treasure until the end of my life."
Affleck's win wasn't the only moment when the evening's victors seemed to be commenting consciously or not on Oscar voters' controversial decisions.
Jessica Chastain, who earned Best Actress in a Drama honors for her role as a driven C.I.A. analyst in "Zero Dark Thirty," took the opportunity to salute Bigelow, who many awards watchers believe was left off the final list for the film's depiction of the role torture played in the hunt for Osama bin Laden.
Also read: Golden Globes Analysis: The HFPA Dishes Out Some Redemption, But No Clarity
Chastain avoided wading into that particular ethical bog during her speech, but she did hail Bigelow for shattering glass ceilings for women in film through her tenacity and talent.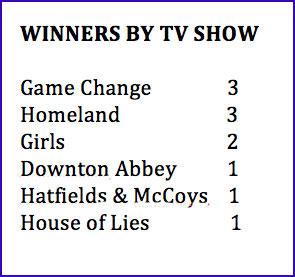 "You've done more for women in cinema than you take credit for," Chastain said to her director Bigelow.
Hosts Amy Poehler and Tina Fey presided over a show that poked gentle fun at the industry — pausing for digs at "Girls" impresario Lena Dunham's age or insinuating that Glenn Close was drunk and needed a medic — but stopped short of the savage jokes aimed at various movie stars that previous host Ricky Gervais had detonated.
During three shocking stints as emcee, Gervais had mocked everyone from Mel Gibson to Bruce Willis (it was not always well-received) and also skewered the Hollywood Foreign Press Association, the controversial organization behind the show that has been slammed by its critics for being more interested in swag than artistry.
Instead, Fey and Poehler kicked off the show by poking fun at its decision to honor the best of both film and television simultaneously.
"Only at the Golden Globes do the beautiful people of film rub shoulders with the rat-faced people of television," Poehler said.
One of those beautiful film people, Hugh Jackman, shook off the lingering effects of the flu to pick up the Best Actor in a Comedy or Musical award for his role as an escaped convict trying to outrun the law in "Les Miserables."
The actor admitted onstage that he almost dropped out of the project after a difficult day of rehearsals but thanked his wife Deborra-Lee Furness for convincing him to remain on the film.
Jennifer Lawrence won Best Actress in a Comedy for her role as a grieving widow in "Silver Linings Playbook."
Also read: Golden Globes Preview: Credibility Is Overrated, Anyway
To earn the honor, the 22-year old actress beat out veteran actresses such as Meryl Streep in "Hope Springs" and Judi Dench in "The Best Exotic Marigold Hotel."
"I am so honored to be in a film like this … Harvey, thank you for killing whoever you had to kill to get me up here today," Lawrence said, acknowledging the film's producer, Harvey Weinstein.
In addition to series honors, "Homeland" stars Damian Lewis and Claire Danes won top TV awards Sunday. Lewis earned Best TV Actor – Drama for his performance as a terrorist mole and Danes earned Best TV Actress – Drama for her portrayal of a bipolar CIA agent.
"The best journeys are always shared … I would like to share this with the best cast and crew in television," Lewis said.
"I am very proud to be working in this medium at this moment for this company," Danes said.
Showtime, which produces "Homeland," had a very strong evening, also picking up a Best TV Actor in a Comedy for Don Cheadle's performance as a cut-throat management consultant in the network's "House of Lies."
Earning Best TV Actress in a Comedy was 26-year-old Lena Dunham.
A teary Dunham said, "I thought I'd be a cooler customer if this ever happened, and I didn't think it would."
"This award is for every woman who ever felt like there wasn't a place for her," she added.
On the film side, Anne Hathaway captured the Best Supporting Actress prize for playing a desperate woman forced into prostitution in "Les Miserables."
"Thank you for this lovely blunt object that I will forever use as a weapon against self-doubt," Hathaway said.
Christoph Waltz won Best Supporting Actor for his portrayal of a German bounty hunter in "Django Unchained."
Waltz, who captured the award over a strong field of candidates like Alan Arkin in "Argo" and Tommy Lee Jones in "Lincoln," thanked director Quentin Tarantino, calling him his "North Star."
Tarantino would have his own turn under the klieg lights, picking up a Best Screenplay statue for the blood-soaked revenge fable set in the antebellum South.
"Brave," Pixar's Scotland-set female empowerment story, earned Best Animated Feature over hits like "Wreck-It Ralph" and "Hotel Transylvania." "Amour," the Austrian film about an elderly couple, earned Best Foreign Film over the likes of "Rust and Bone" and "Kon-Tiki."
The champagne-lubricated event took a political turn at one point, albeit one that looked back at more distant ideological clashes as the Globes awarded the Best TV Movie or Mini-Series statue to HBO's "Game Change."
Director Jay Roach said he hoped the film, which looks at Sen. John McCain's decision to tap Sarah Palin as his running mate in the 2008 presidential election, would encourage more people to talk about politics.
Moments later Julianne Moore took the stage to accept an award for Best Actress in a TV Movie or Mini-Series for playing Palin in the film.
"This was one of my favorite jobs ever," Moore said.
Her "Game Change" co-star Ed Harris won Best Supporting Actor in a TV Movie or Mini-Series for his portrayal of McCain.
It would not be the only moment to dish about the democratic process. Former President Bill Clinton strolled out at one point to introduce Steven Spielberg's "Lincoln," citing it as a guide for future presidents. A hush fell over the crowd as he extolled the historical epic's virtues — one that was not lifted until Poehler punctured the solemnity by noting that he was "Hillary Clinton's husband."
Kevin Costner earned honors in the Best Actor in a TV Movie or Mini-Series for his role in the smash hit "Hatfields & McCoys." In a speech that looked back at his own career in movies and TV, he thanked the awards show for allowing people to "… illuminate movies they might not have seen and now they will."
Also honored in the television awards was Maggie Smith, who captured Best Supporting Actress in a TV Movie or Mini-Series for her work as a haughty aristocrat on PBS' "Downton Abbey." Smith was not at the ceremony.
"Lincoln," Argo" and "Zero Dark Thirty" are among the movies up for top film honors, while "Breaking Bad" and "Homeland" are some of the shows competing for television awards.
Of the major awards contenders, "Life of Pi" earned a Best Score award for Mychael Danna. On the music front, English chanteuse Adele earned her first Golden Globe for her title track on "Skyfall."
"Honestly, I've come for a night out … I was not expecting this!" Adele gushed.
For Fey and Poehler, the expectations were huge, but based on the reaction on Twitter, the two former "Saturday Night Live" stars were able to put their own spin on the show. They were also able to send-up the envelope-pushing Gervais.
"Ricky Gervais could not be here tonight, because he is no longer in show business," Fey said.
Unlike the caustic Gervais, Fey and Poehler were gentler with the HFPA, but they still shot off a few zingers at the organization's expense.
"When left untreated HFPA can lead to cervical cancer," Poehler said.