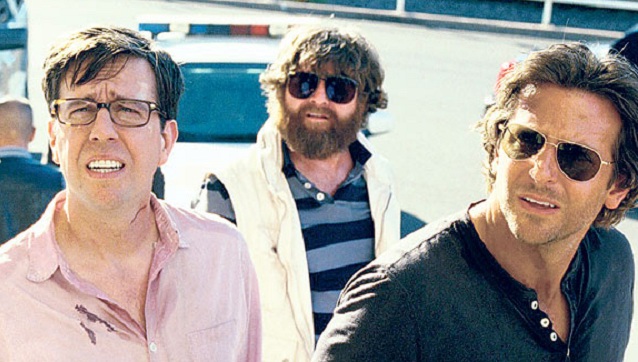 After a nearly four-month dry spell, Hollywood is finally giving moviegoers something to laugh about.
The third and final installment in Warner Bros.' raunchy R-rated "Hangover" franchise is kicking off a very busy Memorial Day weekend at the box office. "The Hangover Part III" opens late Wednesday and will be in 3,555 theaters nationwide by Thursday, one day before Universal's "Fast & Furious 6" and Fox's animated "Epic" debut.
"Fast & Furious 6" could drive off with north of $80 million over the long weekend, analysts say, with "Hangover Part III" looking at around $75 million. "Epic" is likely to land between $30 million and $35 million. And if last week's No. 1 movie, Paramount's "Star Trek Into Darkness," can manage half of its opening week grosses, it will come in at around $35 million, too.
All of this is good news for the box office, which has been running about 12 percent behind last year.The four-day holiday period could finish between $80 million and $100 million over last year's $190 million Memorial Day weekend.
"Fast & Furious 6" is the front-runner, but if absence makes the funny bone more sensitive, audiences should be ready to scream. Just a handful of comedies have been released so far this year, and most have landed with a thud. That bodes well for director and co-writer Todd Phillips and the Wolf Pack of "The Hangover Part III.".
Also read: 5 of Summer's Biggest Box-Office Smackdowns
"It's been a long time since people have gotten their kicks from a comedy," Exhibitor Relations vice president and senior analyst Jeff Bock told TheWrap, "and 'The Hangover' is something people know they can count on, so I think this weekend could be closer than people are expecting."
It's been a bleak year for comedies.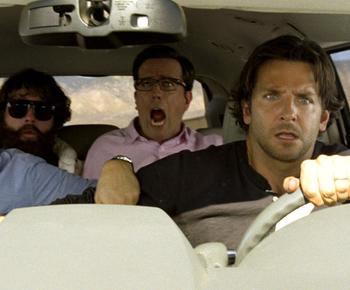 "Identity Thief," with stars Melissa McCarthy and Jason Bateman, was a pleasant surprise for Universal, taking in more than $133 million domestically and another $38 million overseas since opening in January. Marlon Wayans' horror spoof "Haunted House," which opened that same month, brought in $40 million for Open Road.
But other than those two films, even big names haven't been able to generate enough chuckles to register at the box office.
Steve Carrell and Jim Carey sent up the Las Vegas magic scene in Warner Bros.' "The Incredible Bert Wonderstone," but that one failed to connect, taking in just $22 million domestically. Universal's "Admission," starring Tina Fey as a college administrator, flunked at $17 million. And Lionsgate's "Big Wedding," with Robert De Niro and Katherine Heigl topping an ensemble cast, misfired at $20 million.
There is neither wedding nor bachelor party in "Hangover Part III," but Bradley Cooper, Ed Helms and Zach Galifianakis are back in Las Vegas, along with Justin Bartha and Ken Jeong (below), and Heather Graham from the first film.
John Goodman joins the cast, and Melissa McCarthy has a cameo. Craig Mazin, who did the screenplay for "Identity Thief," co-wrote the script with Phillips.
The previous two "Hangover" films are among the most successful comedies ever at the box office, taking in more than $1.5 billion worldwide. Two years ago, "Hangover II" drove a record Memorial Day weekend with an $85 million debut, and went on to take in $254 million domestically, $332 million overseas and $586 million globally.
The first film brought in $467 million worldwide in 2009, with $277 million of that coming from the U.S.
Also read: 'The Hangover Part III' Review: Thank God for Peculiar, Perverse – and Outrageously Funny – Galifianakis
Expectations are lower for this installment, and both its domestic and international numbers are unlikely to match the grosses of "Part II," analysts say. They point to the domestic decline of the second film vs. the first, and its cool critical reception (34 percent positive on Rotten Tomatoes), along with this summer's relentless competition.
Phillips is producing, and Legendary chief executive Thomas Tull and Scott Budnick are executive producers.
"Fast and Furious 6" sees Vin Diesel, Paul Walker and Dwayne Johnson returning for Justin Lin's fourth lap as director. Jordana Brewster, Michelle Rodriguez, Tyrese Gibson, Sung Kang, Gal Gadot, Chris "Ludacris" Bridges and Elsa Pataky all return, with Luke Evans and Gina Carano joining the cast.
The PG-13-rated "6" is running hot on social media, particularly Facebook. Three days away from its opening, it had nearly 24 million "likes," according to BoxOffice.com.
The previous entry in the franchise, "Fast Five," was its highest grossing with $209 million domestically and a whopping $416 million overseas for a $626 million worldwide haul. Overall, the "Fast and Furious" franchise has brought in $1.6 billion globally.
Also read: Fast & Furious 6' Review: Bypasses Logic and Drives Straight to the Pleasure Center
And "6" is off to a sensational start overseas, delivering Universal's biggest U.K. opener ever with $13.2 million last weekend. The movie is set in London, and premiered there, an indicator of how the franchise has evolved from its 2001 origins as a street-racing potboiler set in the subculture of East L.A. into an action spectacle on a global scale.
Universal rolls out "6" in 59 international markets on Friday, including 62 Imax theaters in 21 territories.. It will be in roughly 3,659 theaters in the U.S.
Neal H. Moritz produces, as he has since the series debuted 12 years ago, alongside Clayton Townsend and Diesel. Universal and Elliot Inc. financed the $160 production budget.
As for "Epic," Fox is rolling out the 3D family tale of fairies, creatures and tiny soldiers from its in-house animation unit Blue Sky Studio in more than 3,800 theaters. Blue Sky's founder — and thecvoice of Scrat in Fox's "Ice Age" movies — Chris Wedge directs.
Beyonce Knowles, Colin Farrell, Josh Hutcherson, Amanda Seyfried, Christoph Waltz, Aziz Ansari and Jason Sudeikis provide the voices in "Epic."
"As the only PG-rated movie out there, we'll be the clear family choice," Fox's president of domestic distribution Chris Aronson told TheWrap. He speaks from recent experience.
Also read: 'Epic' Review: Moments of Delight Pep Up a Crushingly Familiar Story
Fox has had the only cartoon in the marketplace since March, when it debuted DreamWorks Animation's "The Croods." That film, with the box-office field to itself in both the U.S. and abroad, has rolled up $177 million domestically and $370 million overseas, particularly impressive for an original animated film.
And "Epic" won't face any domestic competition until June 21, when Disney rolls out "Monsters University."