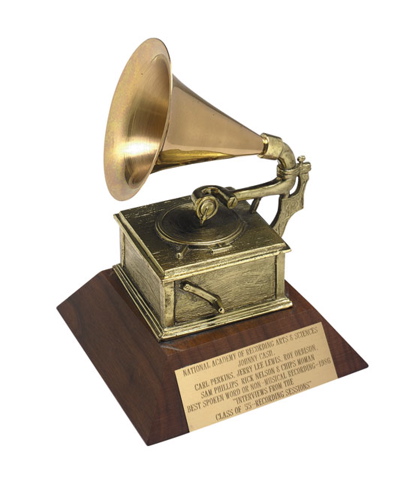 The Grammy Awards, oft-criticized as being out of touch in a Jurassic kind of way, just got bit by the social media bug.
The awards show announced that it will be incorporating an "unprecedented" amount of social media and digital elements into Sunday's show.
Among the innovations on display will be blogging, live streaming video, iTune apps and two new offerings: a "FanBuzz Visualizer," a barometer of which nominees have the most social media buzz, and the "We're All Fans" ad campaign, which culls from sites including YouTube and Twitter to form "portraits" of various nominees.
"We are starting to establish a strong and engaging presence in the digital space, and the multiple other ambitious initiatives we are rolling out represents just the beginning of a life-size mosaic in the digital world," Peter Anton, vice president of digital media for the Recording Academy, said in a statement.
"We want to offer music lovers a higher level of interaction with the Grammy brand on Grammy.com, and across our social media channels, including new and exciting digital applications that they've never before experienced, resulting in a much more meaningful connection," he added.
Through blogs and video, the awards show will provide viewers with behind-the-scenes footage, roaming live coverage and interviews with winners.
It's a bit nebulous, but the show promoters sure seem excited. Meaty verbs like "harness" pop up throughout the release (as in "harnessing the power of social media") and the announcement is littered with sexy social media terminology like "vloggers."
Clearly, the Grammys are hoping to prove this isn't your grandpa's awards show, though the show promoters sound a bit creaky while protesting they're not.