The premiere of "Hard Knocks" — the HBO reality show that focuses on one NFL training camp — drew 1.3 million viewers this week, a record number for the series, now in its sixth season. Part of that can be chalked up to this year's team — the New York Jets — and its outspoken (and outsized) coach, Rex Ryan.
TheWrap spoke with HBO Sports president Ross Greenburg about the debut, knocks from critics and whether the "reality" is really real.
Is "Hard Knocks" real? Or is it like "The Hills" of the NFL?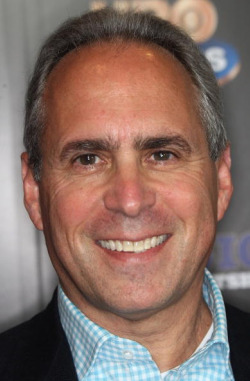 Totally, totally real. It's probably the most real of any reality show on television. We put cameras there and just roll them. It's the truest form of reality TV. We have no writers. As [NFL Films president] Steve Sabol likes to say, "We're building the plane while it's in flight." We had no idea, for example, there would be a whole segment on Rex Ryan's black hi-top Converse sneakers he likes to wear on the first day of practice.
No one's playing to the cameras. You know, a lot of cameras are robotic, and no one knows they are there. And the players and coaches tell us they forget about the cameras after a day or two.
There have been complaints about the vulgarity this season, and Rex Ryan even apologized for it. I read that his mom saw the show and said, "That wasn't Rex." Is it?
That's real. That's Rex. That's the way he talks. There was a lot of salty language left on the cutting room floor.
Like Rex, I'd like to apologize to anyone that was offended by it, but that's just how it is. That's what is said in NFL locker rooms across the country. This is no different. We've done six seasons of this. And if that's the worst thing people can say, we're doing a good job.
Have you thought about bleeping the vulgarity?
When the show airs at 10 and 11, we don't censor. But when it is played during the afternoon, we do. That's to protect families.
All-Pro cornerback Darrelle Revis' holdout is adding drama to the show, though some critics think that might be set up, too. What is your response?
That's a joke. We've had plenty of holdouts on previous seasons, Larry Johnson, etc. That's just part of the fabric of training camp, of the NFL. And we cover them as news events.
Honestly, we would probably rather Revis be in camp, so we could have him there. He's a tremendous athlete, and would be great on the show.
He wasn't shown on the first episode, but do you have a camera on him?
No. We wanted to, but his agents — and Darrelle — decided they did not want cameras following him during the holdout. After the first episode aired, both the Jets and Darrelle announced that they're going to go behind closed doors during the negotiation process, and won't allow our cameras inside. And we'll respect that request.
Is there anything you won't/wouldn't air?
Well, Rex told us before the show that the only place he wouldn't allow a camera with him is in the shower.
Thank you for that, by the way.
[Laughs] But we're open to any room, any time. We're not going to give away trade secrets or anything. If they're working on a trick play for their game against the Giants, we wouldn't air that.
But it would be the Jets decision not to air it, right?
Right.
This is the first season that a team has requested to be featured on "Hard Knocks."
Yeah, the Houston Texans requested to be on "Hard Knocks." That is the first time that's happened. It was a turning point – hopefully after this year we'll have more teams coming to us, instead of us going to them. It's fun now, not having to grind with general managers and coaches for access.
So the Jets did not come to you, you went to them?
Yes, I personally asked [Jets general manager] Mike Tannenbaum, [president] Woody Johnson and Rex in January. Coming off last season, I just knew this would be the team we'd want this year.
Can you give us an idea of the production costs?
I can't give you specific numbers, but I'd say it's in line with most reality show productions, we've just shortened the window. I'd say it's probably the quickest turnaround of any reality show. We shoot and edit in a seven-day span. We're not spending six months shooting and cutting footage before it airs.
Which season has cost the most?
It's actually remained very consistent, and flat, I'd say, over the last three years.
Are you planning to spin-off into other sports?
Oh yeah. We've done boxing and NASCAR with our "24/7" series. We're in several discussions with several other leagues, and you'll be hearing more about [the next sport we do] in the next six months to a year.
Is baseball off-limits, since the MLB Network has launched a similar show?
No, not for us. We'd love to do a show with a Major League Baseball team, and have our cameras embedded. The question is, does MLB think we're off limits?
What is your threshold for success with this season of "Hard Knocks"?
Obviously, we'd like to see high ratings. And the 1.3 million we got for the premiere was unprecedented. But what we really want is the "water-cooler" talk, where people are buzzing about the show. And that's really how HBO measures success. Are people talking about it the next day? That's what we're going for.