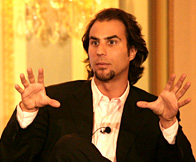 As the Ben Silverman Experiment ends at NBC, another one begins at IAC.
News that the network's wunderkind co-chairman has been wooed by Barry Diller to launch a new company that will "capitalize on the ever-evolving world of multimedia production and distribution, leveraging unique marketing expertise," broke this morning – apparently "first-Tweeted" by Ryan Seacrest, and followed by a breathlessly-worded press release.
Here's the full release, with accompanying parenthetical annotations that will hopefully cut through some of the spin:
IAC, Ben Silverman Announce (Trumpet) Partnership
New Business to Produce, Distribute Content for Web, TV and Other Platforms (iPhones, probably) Globally Utilizing Proprietary (IAC's) Marketing Expertise
PRNewswire
NEW YORK
(NASDAQ-NMS:IACI)
NEW YORK, July 27 /PRNewswire-FirstCall/ — IAC (NASDAQ: IACI) and media entrepreneur (failed NBC co-chairman) Ben Silverman today announced that they are (hastily) forming a new company to capitalize on the ever-evolving world of multimedia production and distribution, leveraging unique (their) marketing expertise. The company, which will be headed by Ben Silverman, will unite producers, creators, advertisers and distributors under one roof and produce all forms of content (not free though, Diller says!) for distribution across a variety of platforms (iPhones) around the world (the U.S., Canada, and for some reason, Dubai).
This will be the industry's first (most recent) global platform that connects advertisers, distributors and content creators early on in the development process, enabling advertisers to be a partner (place products) in campaigns and (dictate) content creation.
"This new venture will take full advantage of all areas of Ben Silverman's extensive media expertise — as an agent, producer and advertising innovator (i.e. things he did not do as co-chair at NBC) — to create a truly integrated and truly interactive new media production entity, a next generation enterprise that bridges the gap between traditional television and the internet," said Barry Diller, IAC Chairman & CEO.
Already a (well-connected) pioneer (one of many who claim) in pushing the boundaries of the media industry, as evidenced most recently by Silverman's work as Co-Chairman of NBC Entertainment – bringing advertisers into the process further upstream resulting in integrated campaigns and better content – this venture will leverage Silverman's unique (pre-NBC) expertise and break the current silos of the media industry to create a broad-based (vague), 360-degree, multi-creative company. The new company will aim to go further than the industry has gone before, by bringing marketing and advertising expertise (Silverman's friends) in-house to help advertisers sponsor, support and be involved with the content creation process from the beginning.
"Media is being consumed (stolen) across an increasing number of platforms, including TV, the internet, mobile, and DVR. The next generation of media will be defined by the players who can capitalize (figure out a way to get people to pay for) on those trends and deliver integrated, compelling content across all platforms," said Silverman. "Uniting advertisers and content creators will fundamentally improve quality and enable a fluid production and distribution model."
NBC Universal will continue to have a relationship with Mr. Silverman via the new venture through (discounted) platform partnerships and a potential (small) investment in the enterprise.
IAC (Barry Diller) will provide initial capital to the venture, though the parties intend to ultimately structure the venture in a way that its results will not be consolidated with the financial results of IAC, whether through the participation of new investors or otherwise. Additional terms (Silverman's salary) of the venture are not being disclosed.