Like East Coast snowbirds heading south to Florida, Hollywood stars are prepping to make their annual trek east to the Broadway stages.
Jessica Chastain, Katie Holmes and Al Pacino are among the actors scheduled to hit the boards in high-profile plays on Broadway. Others, including Jake Gyllenhaal and Gretchen Mol will perform off-Broadway.
Their names above the title often mean the difference between box-office boom or bomb.
There are countless examples of the challenges they face, as Julia Roberts discovered in 2006 when she took on Richard Greenberg's "Three Days of Rain." Her Broadway debut made the limited-run revival the hottest ticket in town, but the critics were brutal. Ben Brantley of the New York Times, an admitted "Juliaholic," wrote, "Your heart goes out to her when she makes her entrance in the first act and freezes with the unyielding stiffness of an industrial lamppost."
And "Entourage's" Jeremy Piven found out quickly that diva behavior would not be tolerated after dropping out of the 2008 revival of David Mamet's "Speed-the-Plow" because of "acute mercury poisoning." Despite good notices, Piven had to contend with media skeptical of his illness (attributed to excessive sushi) and more focused on his late-night antics.
Yet, there are rewards. Scarlett Johansson earned a Tony Award for her role in the 2010 revival of Arthur Miller's "A View from the Bridge." Denzel Washington, in his third stop on Broadway, picked up a Tony in 2010 for Best Actor in August Wilson's "Fences." And just before "Amazing Spider-Man" hit movie theaters, star Andrew Garfield was nominated for his turn in Arthur Miller's "Death of a Salesman."
Here's who's headed for the Great White Way this season.
JESSICA CHASTAIN
Play: "The Heiress"
Where/When: Walter Kerr Theatre. Previews start Oct. 7; opens Nov. 1
Theatrical Experience: This is her Broadway debut, but she has appeared on stage in San Francisco and Los Angeles.
Why We're Psyched: Chastain exploded onto the big screen last year in "The Help" and "Tree of Life." Now the Julliard-trained actress will take on the role that has brought great success to the likes of Olivia de Havilland, who won an Oscar for the film version of Ruth and Augustus Goetz's classic, and Cherry Jones, who picked up a Tony for the 1995 revival. Can she make Catherine Sloper, the plain-looking heiress at the center of the play, her own? Joining her on stage will be "Downton Abbey" star Dan Stevens, making his Broadway debut, and Broadway veteran David Strathairn.
AL PACINO
Play: "Glengarry Glen Ross"
Where/When: Gerald Schoenfeld Theatre. Previews start Oct. 16; opens Nov. 11
Theatrical Experience: The two-time Tony winner is a Broadway veteran. He was seen last in his Tony-nominated performance in Daniel Sullivan's 2010 production of "The Merchant of Venice."
Why We're Psyched: Pacino is one of the preeminent interpreters of David Mamet's syncopated language, earning an Oscar nomination for his performance in the 1992 film version of "Glengarry." This time, however, instead of playing the cocky salesman Ricky Roma, he'll portray the down-on-his-heels pitchman Shelley "The Machine" Levene. That will require him to try something he's not traditionally known for — subtlety — leaving the pyrotechnics to Bobby Canavale ("The Station Agent"), who plays Roma.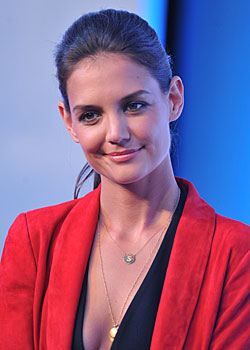 KATIE HOLMES
Play: "Dead Accounts"
Where/When: Music Box Theatre. Previews start Nov. 13; opens Nov. 29.
Theatrical Experience: The former Mrs. Tom Cruise received mixed reviews in her Broadway debut in the 2008 revival of Arthur Miller's "All My Sons."
Why We're Psyched: The comedy from "Smash" co-creator Theresa Rebeck represents a coming-out party for Holmes following her split with Cruise, so attention will be at a fever pitch. Co-starring two-time Tony winner Norbert Leo Butz, it centers on a family grappling with the return of a prodigal son who has come into millions of dollars under suspicious circumstances. The stakes are high — after all, there are two paths for former Cruise spouse. Play it right and it could kick off a Nicole Kidman-like resurgence, but fumble and Holmes could disappear forever like Mimi Rogers.
Also read: Bradley Cooper Hoping to Play 'The Elephant Man' on Broadway
JAKE GYLLENHAAL
Play: "If There Is I Haven't Found It Yet"
Where/When: Laura Pels Theatre. Previews start Aug. 24; opens Sept. 20.
Previous Theatrical Experience: The play by British playwright Nick Payne represents Gyllenhaal's U.S. theatrical debut. He was highly acclaimed, however, for a 2002 London performance of Kenneth Lonergan's "This Is Our Youth,"
Why We're Psyched: Gyllenhaal is a fine actor in indie fare like "Donnie Darko" and "Brokeback Mountain," but he can be dwarfed by big-budget flicks like the doleful "Prince of Persia: The Sands of Time." This comedy, about a rakish uncle and his overweight niece — a critical success when it premiered in the U.K. in 2009 — sounds like the perfect vehicle for the young actor to rediscover the quirkiness that first captured moviegoers' affections.
Also read: Christopher Durang, Will Eno, Adam Rapp Win PEN Literary Awards
GRETCHEN MOL
Play: "The Good Mother"
Where/When: Acorn Theatre. Previews start Oct. 29; opens Nov. 15
Theatrical Experience: Mol made her Broadway debut as one of the string of Roxies in "Chicago," but her stage credits also include Neil LaBute's "The Shape of Things" in London and off-Broadway in 2001, a role she reprised in the 2003 film version of the play.
Why We're Psyched: Mol has shown her wild, sexy side in "Boardwalk Empire" as showgirl Gillian Darmody, as well as the 2006 film "The Notorious Bettie Page." She'll show a more mysterious, vulnerable side in the New Group production of the world premiere of Francine Volpe's psychological thriller, in which she plays a single mom dealing with questionable actions from her past.
DEBRA WINGER
Play: "The Anarchist"
Where/When: John Golden Theatre. Previews start Nov. 13; opens Dec. 2.
Theatrical Experience: The new David Mamet play marks Winger's Broadway debut. She appeared in the American Repertory Theater's 2001 production of Anton Chekov's "Ivanov" in Cambridge, Mass., and an off-Broadway production of "The Exonerated."
Why We're Psyched: Winger electrified moviegoers with her husky-voiced star turns in "An Officer and a Gentleman" and "Terms of Endearment" in the 1980s, but in youth-obsessed Hollywood, the 57-year-old has been relegated to supporting roles in films like "Rachel Getting Married." Playing opposite Patti LuPone in a drama about a political radical pleading with a prison warden for parole, may produce the kind of sparks she ignited in those earlier screen performances, making audiences remember what they've been missing.
Also read: Jon Favreau Tweets He's Directing 'Jersey Boys'
TONY SHALHOUB
Play: "Golden Boy"
Where/When: Belasco Theatre. Previews start Nov. 8; opens Dec. 6.
Theatrical Experience: He most recently appeared in 2010 Broadway revival of "Lend Me a Tenor." Previous Broadway credits include 1989's "The Heidi Chronicles" and 1982's "Conversations with My Father."
Why We're Psyched: Shalhoub has earned praise (and Emmys) for his comedic turns in "Monk" and "Wings," but this revival of Clifford Odets' searing Depression-era box drama gives him a chance to take a walk on the tragic side. As the father of a prodigy torn between the worlds of music and boxing, Shalhoub will demonstrate, as he did in the 1996 film "Big Night," that he can be counted on to deliver tears as well as laughter. Likewise, Odets' populism and ambivalence toward the allure of the almighty dollar seems uniquely attuned to this particular moment in American history.
DAVID SCHWIMMER & AMY RYAN
Play: "Detroit"
Where/When: Playwrights Horizons. Previews begin Aug. 29; opens Sept. 18
Theatrical Experience: Schwimmer appeared off-Broadway in Stephen Belber's "Fault Lines" in 2008. He made his Broadway debut in a 2006 revival of "The Caine Mutiny Court-Martial" and has performed on London's West End and in Los Angeles. Plus, the former "Friends" star is a co-founder of Chicago's Lookingglass Theatre. Ryan is a Broadway veteran, appearing in revivals of "Uncle Vanya" and "A Streetcar Named Desire," among others.
Why We're Psyched: In this case, it's the play as much as the star power. Lisa D'Amour's dark comedy about a middle-class couple who befriend a pair of addicts was a finalist for the 2011 Pulitzer Prize and earned rave reviews for its send-up of suburban mores. Plus, Schwimmer is always best when he plays up the acid underbelly of his natural adorkableness, such as in his guest role in "Curb Your Enthusiasm." As for Ryan, anyone who has seen her in "The Office" or "Gone Baby Gone" can testify she is an actress of astonishing range and power.
Also read: Craig Wright Signs Production Deal With Fox 21
DAVID HYDE PIERCE & SIGOURNEY WEAVER
Play: "Vanya and Sonia and Masha and Spike"
When/Where: Lincoln Center's Mitzi E. Newhouse Theatre. Previews start Oct. 25; opens Nov. 12
Theatrical Experience: Hyde Pierce made his Broadway debut in 1982 in Christopher Durang's "Beyond Therapy" and has returned five more times, picking up two Tony Awards along the way. Weaver appeared on Broadway in David Rabe's "Hurlyburly" and Durang's "Sex and Longing" in 1996. Her off-Broadway (and off-off-Broadway) credits include work with Durang: "The Nature and Purpose of the Universe," "Titanic" and "Das Lusitania Songspiel," which she co-wrote with Durang. She has also appeared in productions at New York's Flea Theater, of which her husband, Jim Simpson, is a co-founder.
Why We're Psyched: The production reunites Pierce, best known for "Frasier," and "Alien"-hunter Weaver with recent PEN award winner Durang. His new play pulls in characters and themes from Chekhov and transports them into present-day Bucks County, Penn. What's not to like?
HENRY WINKLER & ALICIA SILVERSTONE
Play: "The Performers"
Where/When: Longacre Theatre. Previews start Oct. 23; opens Nov. 14.
Theatrical Experience: Winkler returns to Braodway after a 12-year absence, having appeared in Neil Simon's "The Dinner Party" and "42 Seconds From Broadway." Silverstone last hit the Great White Way in 2010 in Donald Margulies' "Time Stands Still." She made her Broadway debut in "The Graduate" in 2002.
Why We're Psyched: Winkler and Cheyenne Jackson ("30 Rock") play adult film actors in a romantic comedy set at an industry awards show. Silverstone's the girlfriend of one of the actors. The "Fonz" and porn — now that sounds funny.