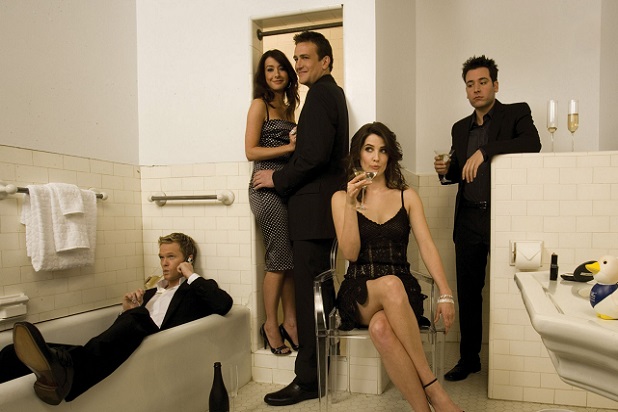 CBS's "How I Met Your Mother" is looking to go out big Monday after nine seasons of remarkably consistent ratings.
In the 18-to-49 demographic most important to advertisers, the show's best and worst-rated seasons have been within a ratings point of each other. And even the lowest-rated season did very well.
Also read: 'How I Met Your Mother' Creators Talk (Sort of) About the Finale at PaleyFest Panel
Season 7 had the highest average rating — a 4.2 rating/12 share — and the highest total viewers, averaging 9.8 million per episode.
The show's lowest-rated season was its second, which averaged a 3.2/9. The least-watched season, the third,  averaged 8.3 million total viewers.
Also read: 'How I Met Your Mother' Finale: What the CBS Series Meant for Its Stars' Careers
Season 9 is closing strong so far. Season-to-date it has averaged a 3.9/11 rating, making it the third-highest rated season. It is averaging 9.7 million total viewers, just shy of Season 7's record viewership.
Also read: 'How I Met Your Mother' Star Jason Segel: Marshall and Lily Are 'My Favorite TV Couple'
In terms of individual episodes, Sept. 19, 2011 — the night of the series' Season 7 premiere — was a very good night for the series. Both episodes that ran that evening are among the series' top three in the ratings. "The Naked Truth" scored the highest — a 5.2/13, while "The Best Man" holds the No. 3 slot with a 4.7/13. Sitting in the middle is the January 2009 episode "Benefits," which had a 4.8/12 rating. (The 2005 episode "The Pineapple Incident" was the series' most-watched, with 12.3 million total viewers.)
Fans apparently weren't as enthused about the April 4, 2006 episode "Mary the Paralegal" or May 1, 2006's "Best Prom Ever," which are tied for the series' lowest-rated episode. Both scored a 2.5/7 in the demo. The April 2011 episode "Hopeless" had a 2.5/8, while "Landmarks" the following month also scored a 2.5/8.