TV networks try to keep their twice-annual presentations to TV critics as on-message as possible, and the critics tend to make that pretty easy.
The Television Critics Association press tours each winter and summer find the networks rolling out slick presentations and sizzle reels, as well as actors who sit anxiously on stage, hoping the assembled critics don't ask too many awkward questions. The critics are softened up with endless free food, booze, and souvenir trinkets, which of course do nothing to dull our edges.
Once in a while, a network executive has the misfortune of having something resembling news coincide with the TCAs — like Charlie Sheen's meltdown during winter TCA last year. In those cases, executives find themselves forced to stand on stage fielding questions from a couple hundred reporters.
Also read: 'Dexter' Answer Criticism That Last Season Was Its Worst
This time around, that was only the fate of ABC. News president Ben Sherwood was barraged with questions about his network's coverage of the Colorado shootings, and entertainment president Paul Lee (pictured) was pressed on "Modern Family" negotiations.
But for the most part, the networks did what they set out to do — make the case for their lineups without making any embarrassing news. They also tried to lower expectations, as they always do, in what they hope will set them up to under-promise and over-deliver.
Here's what each broadcast network set out to do, and how it did.
FOX
If Fox wanted to tamp down the expectations and hype surrounding its singing shows "X Factor" and "American Idol," it couldn't have done a better job.
At the last summer TCA, "X Factor" creator Simon Cowell made the mistake of saying he wanted his new show to beat his old one, "Idol," in the ratings.
TV reporters have since delighted in reminding him that it didn't. So no one set high expectations this time around.
Also read: Jimmy Kimmel's Best Jokes From the TCA Emmy Panel
Fox entertainment president Kevin Reilly set the laid-back tone by announcing Mariah Carey as the latest "Idol" judge with a simple phone call, played on speakerphone. No surprise appearance, no satellite link, not even a sizzle reel.
Britney Spears was also anti-hype: During an "X Factor" panel, she was so subdued she seemed almost bored. Cowell, meanwhile, was humble this time around, saying no one on his show had any job security – including him.
It was almost as if Fox didn't think singing competitions were the most important thing in the world.
The network set low expectations in other areas as well — with the hope, of course, that it will exceed them. Among the most modest was Reilly's prediction that CBS could overtake Fox in the 18-49 demographic, thanks to the Super Bowl.
One area where he had high hopes: Emmys. Without naming specific shows, he said he thinks some new Fox dramas (they include the midseason Kevin Bacon serial killer drama "The Following") will be in the Emmy race next year.
NBC
After barely edging out ABC to earn third-place in the ratings last season, NBC hopes to expand its audience further. It gave critics fair warning that it might annoy them in the process.
Thursday night comedies like "30 Rock," "Parks and Recreation" and "Community" are critical darlings that don't do very well ratings-wise. Even the Thursday night comedy "The Office," NBC's highest-rated scripted show, doesn't earn the numbers of the top comedies on the other networks: CBS's "Big Bang Theory," ABC's "Modern Family," and Fox's "The New Girl."
Also read: NBC's Broad Comedy Plan: Bring on the Kids and Monkeys
So NBC is going "broader," to use the network's word, which can have negative connotations in the world of comedy: To many critics, "broad" equals "dumb." To NBC, "broader" means the baby-filled "Guys With Kids" and animal-packed "Animal Kingdom," which features an adorable monkey in a central role (pictured).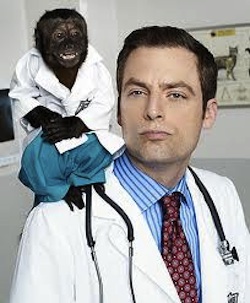 NBC seemed to be acknowledging its greater emphasis on broad comedy to get out ahead of any critical claims that it is dumbing down its smart comedy lineup for the masses. It tried to earn some critical goodwill by making that adorable monkey very accessible. (Full disclosure: It kissed me on the cheek at a party. I adore the monkey.)
But NBC tried to signal to critics that it deserves some credit for keeping its smart, low-rated comedies alive. (And it does.) NBC entertainment chairman Bob Greenblatt noted that moving "Community" to Fridays helped save the show from cancelation.
ABC
No network had more news it wanted to avoid discussing. First, there were the "Modern Family" negotiations, still unresolved as ABC began its panels. (They were resolved soon after they ended.) Then ABC News' recent gaffe in its linking of the Colorado shootings suspect to the Tea Party. And finally the "Glass House" lawsuit brought by CBS, which accuses the show of ripping off "Big Brother."
ABC distracted the assembled press with something that discombobulates many Americans: A Palin. Bristol Palin is one of the "all-star" competitors on the new season of "Dancing With the Stars." (Her parents showed up at an NBC party — the one with the monkey — because Todd Palin is a competitor on NBC's "Stars Earn Stripes.")
During the "Dancing" panel, Bristol snappily answered questions about her thoughts on gays ("I like gays") and being in the public eye ("Do I like to provide for my son? Yes, I do").
But she arrived too late in the morning to spare Sherwood from being barraged with questions about the Colorado error, and accusations of other mistakes in the network's Colorado coverage. He stressed that the network is committed to learning from its mistake and not making more.
ABC entertainment president Paul Lee wisely limited his comments on "Modern Family" to saying he was "optimistic" a deal would be reached. His optimism turned out to be well-founded.
But Lee made a gaffe when he said that CBS's "Glass House" lawsuit was over. In fact, as CBS later noted, it is still pending.
Lee also deflected speculation about ABC's decision not to slot the new sitcom "The Neighbors" after "Modern Family," as it had originally planned to do. Now, it will premiere the show after the 9 p.m. "Modern Family," then move it to its 8:30 regular slot between "The Middle" and "Modern Family."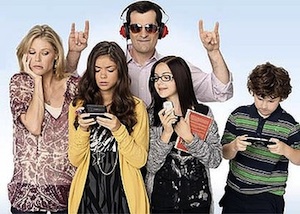 "The Neighbors," a broad (read that as you will) comedy about a normal family living among space aliens, had seemed an odd follow-up to the grounded "Modern Family." Its original timeslot seemed like a big vote of confidence that it would prove worthy of its scheduling.
But Lee made the case that it would be a good "bridge" between "The Middle" and "Modern Family," and that sophomore show "Suburgatory" would be a good 9:30 bridge from "Modern Family" to the new "Nashville."
("Nashville," by the way, looks promising. The country music drama stars Connie Britton, a hero to many TV critics for her performance on "Friday Night Lights." She's even more popular than NBC's monkey.)
CBS
CBS's mission lately seems to be projecting confidence. How much confidence? Entertainment chief Nina Tassler started her panel by walking out with a stuffed monkey – a ding at NBC's prominent placement for the "Animal Kingdom" monkey.
Tassler also took a thanks-but-no-thanks approach to Reilly's prediction that CBS could top Fox in the 18-49 demo. She said CBS appreciated the prediction but wanted to earn the ratings win.
Tassler also said CBS is going forward with the "Glass House" lawsuit. And with that, she had dinged all of CBS rivals.
She also made CBS's strong case for its lineup, which the network previously made in its upfront presentation to advertisers: Every single CBS show, she said, is a hit or has a safe time slot where it is cushioned by hits. The network's success, in other words, is likely to breed more success.
THE CW
The network, owned by CBS Corp. and Warner Bros., has effectively explained to critics that one reason for its low ratings last season is that many of its young viewers are watching online. That argument turns a weakness into a strength: It's not that no one's watching, it's that the audience is so young that it watches a different way.
Also read: CW's Plans Include More Men, More Muppets
The CW's goal this season, however, is to draw those viewers back to TV. It hopes to do it in part with grittier shows that incorporate action it hopes will appeal to young men (the dark midseason show "The Cult" and fall's DC Comics-inspired "Arrow"). Network president noted that it had lost some young men with the end of "Smallville."
In addition to the shows with potential male appeal, the CW is offering another round of shows that cater to young women, including "Beauty and the Beast" (pictured) and "Emily Owens, M.D."
In their questions about the shows, critics were particularly hard on "Beauty and the Beast," noting that the beast is good-looking this time around, except for a scar. (He gets more beastly when he gets angry.) That struck some as contrary to the whole idea of the beast being a beast.
Good point — but who cares? No one's ever been kicked off of television for being too pretty.