There were no signs of cutbacks or the recent exec shuffle at the lavish premiere of "Transformers: Revenge of the Fallen," which overtook the streets of Westwood Monday evening with red carpets and life-size replicas of machines from the film, including the Optimus Prime semi-truck.
Before the screening at Mann's Village Theater, Paramount head Brad Grey took the stage to applaud producer Steven Spielberg and director Michael Bay's latest collaboration. Bay thanked the studio for acting as his "family" for the last three years.
The comment may have been an effort to stifle the rumors of turmoil between the director and the studio after Bay complained last month in a leaked email to studio heads that he didn't think Paramount was doing enough to promote the film.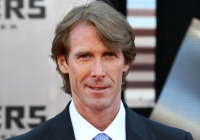 "You jumped off a cliff with me three years ago, and a director is only as good as his cast and crew," Bay (
pictured right
) said as he introduced the film. "When I made this movie it was about having fun. So let's have some fun."
Audience members chomped on popcorn from huge "Tranformers"-themed buckets before heading over to the outdoor after-party, where partygoers were greeted by large metal sculptures and a re-creation of the yellow Bumble-Bee transformer from the film.
Studio execs stood by the bar, stopping continuously by Grey to congratulate him.
Megan Fox
(left
), dressed in a white grecian-inspired gown, sat in a corner as a number of wide-eyed male fans approached her to eagerly request a photo op. Shia LaBeouf (
right
) stood nearby, constantly surrounded by a throng of admirers and friends, including "Milk" star Emile Hirsch.
Other cast members also spent the night interacting with the crowd: Josh Duhamel seemed to be continuously posing for pictures, while Tyrese Gibson — dressed in a flashy red blazer and black bowtie — bopped his head to the music along Linkin Park's performance. The band performed "New Divide," which appears on the film's soundtrack, as well as a number of their old hits like "Numb."
Other partying stars included Kim Kardashian, Vanessa Minnello and Hef's former Playboy girlfriends Kendra Wilkinson and Bridget Marquardt.
The event set the stage for the film, which opens wide at midnight Tuesday. The first film earned $708 million worldwide, and a number of tickets for the midnight screenings are already sold out.