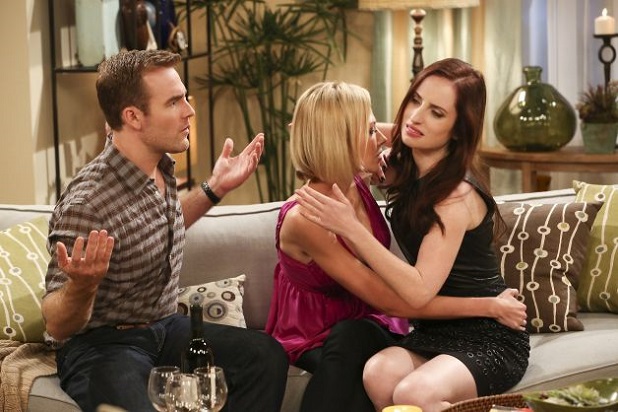 "Dawson's Creek" icon James Van Der Beek returns to the small screen in the CBS sitcom "Friends With Better Lives," which premieres Monday at 9 p.m., playing a very different character than he portrayed on his last series, "Don't Trust the B—- in Apartment 23."
For one thing, his new character isn't also named James Van Der Beek. For another, the character, Will Stokes, is newly single and finds himself pining for his ex-wife to a degree that skips right past lovelorn and dives head-first into pathetic.
See photos: The Faces of Pilot Season 2014
TheWrap sat down with Van Der Beek to discuss his new role, the preponderance of bawdy humor in the "Friends With Better Lives" pilot, and how finding yourself suddenly single can be a good thing.
Also read: Pilot Season 2014: TheWrap's Complete Network Guide
TheWrap: There's been a lot of talk about the number of sex jokes on the series — and there are a lot of them in the pilot. How do you respond to criticism on that front?
James Van Der Beek: I feel like part of it is just staking out the territory … I feel like it was important in a way to just mark our boundaries, so that when something does come up, we can be funny and truthful about it without having to back off. Because the pilot becomes, in a way … in my career what I've seen is that it can become limiting. It sets the precedent. So I liked that we were giving ourselves some room to play. And it's my hope for sure that we never become reliant upon being dirty or sex jokes; they're funny when they're few and far between, is my personal point of view on it.
Also read: 'Friends With Better Lives' Brooklyn Decker on Kevin Connolly's Texts, Annoyingly Perfect Couples: 'Stop Making Out!'
Your character, Will Stokes, comes across as rather pathetic in the pilot — he's practically concern-stalking his ex-wife.
He's in a really tough spot. He thought he'd be married for the rest of his life and he's just blindsided, and he's yet to really full-on accept that his marriage is over and that he's got to now discover who he is outside of that relationship.
Also read: CBS Comedy Pilot 'Good Session' Adds Ana Nogueira
How does that develop as the season goes on?
Well, what's nice is that after episode two, we then jump ahead four months … and Will is now ready to start dating. So we don't spend too much time mired in the muck of the divorce proceedings. He decides he's going to get out there and he's going to get after it, and as good a guy as he is, he's completely ill-equipped [for the dating scene]. He's just totally inept.
How do you relate to that character?
Well, I know what it's like to be single in your 30s all of a sudden. There's this great period of rediscovery, self-discovery. It's a personal renaissance to have that kind of freedom and [to] have to make choices … about who you are and who you want to be and what you're about.
What drew you to the project?
[Creator] Dana Klein. I really love her — so smart and cool, and [she] just has such a handle on how to change things and re-write things and write for people. It all felt very authentic the way she approached it. And James Burrows directed the pilot. When you get to work with a master like that, it's one of the true pleasures.
Also read: CBS Finale Dates: 'How I Met Your Mother,' 'Crazy Ones' Get 1-Hour Season-Enders
You played a character named James Van Der Beek on your last series, "Don't Trust the B—- in Apartment 23." What's more difficult — playing a fake version of yourself, or a real version of a fake person?
To me they're both real versions of a fake person. What was fun about the fake me was that there was just zero shame in that character. And the two girls really did the majority of the heavy lifting on the dramatic side of that show, which just gave me this really long leash to go out and be as bizarre as we could come up with.
How does fake James compare to Will?
I think Will is much more relatable to people. But we also found his little idiosyncrasies too — by making him very particular about certain things, very cynical about certain things, very excited about certain things, weird things.