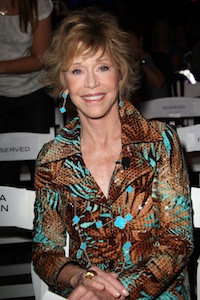 Jane Fonda took time out from promoting her new workout video to tell Entertainment Tonight that she was recently diagnosed with breast cancer.
The Oscar winner said that a checkup found a tumor in her breast. The cancer was found to be non-invasive.
She assured fans that after undergoing a procedure recently she is now cancer-free.
Fonda's Primetime Fitness DVDs hits stores on November 30. The actress has been making the rounds recently as part of a planned relaunch of her workout brand, which has been largely defunct since its 1980s heyday.