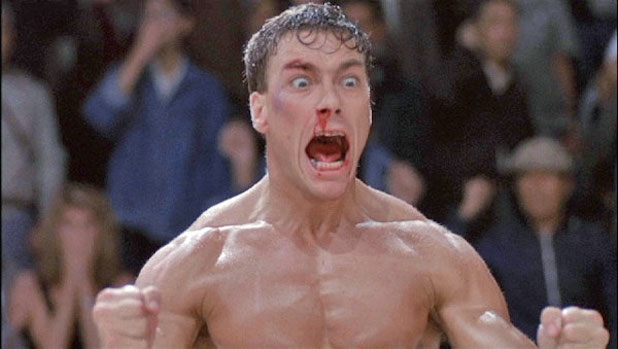 The producers of the upcoming "Kickboxer" remake starring Jean-Claude Van Damme still haven't paid more than 150 crew members, vendors and extras based in Louisiana despite weeks of promising to do so, individuals close to the production told TheWrap.
John Stockwell is directing the "Kickboxer" remake, which costars Gina Carano and is being produced by Ted Field of Radar Pictures as well as Dimitri Logothetis and Nick Celozzi. Filming in New Orleans wrapped on Dec. 13, the production office closed, and the filmmakers subsequently moved on to the Thailand portion of the shoot.
The producers are alleged to have left Louisiana before the holidays without paying crew members — many of whom are owed thousands of dollars — forcing several below-the-line staffers to choose between paying their bills and buying Christmas presents for their families, according to the Times-Picayune, which first reported the "Kickboxer" news.
Also Read: Jean-Claude Van Damme Returning for 'Kickboxer' Remake
An attorney for Radar Pictures, Jonathan Freund, told TheWrap that the payments were delayed, and told the Times-Picayune it was a result of a hiccup with the film's financing.
"It's the producer's intent to get everybody paid as quickly as possible," he said, adding that "all their effort will not be for naught."
Freund told TheWrap that the producers would make an announcement on Wednesday morning that will outline how and when the situation will be resolved to everyone's satisfaction. Logothetis did not respond to a Wrap request for comment.
Crew members involved with props, lighting, graphics, transportation, special effects, location scouting, catering and makeup are typically paid on a weekly basis, and it's standard for a production to save payroll money in escrow prior to the start of production.
Also Read: Court Approves $5.85 Million Settlement in Condé Nast Interns Lawsuit
"Kickboxer" filmed in and around New Orleans for several weeks in November and December, and crew members actually stopped working at one point because their paychecks had yet to arrive, though they were ultimately persuaded to finish the job.
Reached for comment Tuesday, Mike Miller of the labor union IATSE told TheWrap: "Since Radar Pictures' funding fell through in mid-December, the IATSE has been in ongoing discussions with the affected IATSE Locals, the production company, and producer Ted Fields to recover the money owed to our members. We will pursue every avenue available to us to make our members whole. We take these breaches of contract very seriously and will not rest until this issue is resolved."
Location scout Scottie Brower of Mojo Locations told the Times-Picayune that he's owed at least $6,000 for his services, and that the location owners and the off-duty police officers who provided security during filming haven't been paid either.
Also Read: Sony Hit With Fifth Class-Action Lawsuit Following Cyberattack
"The bottom line is, they didn't have the money," said New Orleans-based special effects coordinator R. Michael Bisetti, a 39-year veteran of the film industry. "We've all been lied to before."
Prop master Stan Gilbert added, "I'm not going to be satisfied until everybody has been paid."
No tax credits have been issued for "Kickboxer," as the Louisiana government is currently processing the producers' tax credit application, which means the production is subject to an audit.
However, there's no telling what the true cost of the payroll situation will be, as crew members secured services from vendors without paying upfront, which could affect their professional reputations. Some crew members have reportedly paid vendors out-of-pocket in order to maintain their working relationships.
Also Read: Octavia Spencer Awarded $940,000 in Weight Loss Lawsuit
TheWrap exclusively obtained a lengthy email chain between dozens of crew members and the producers, which we have excerpted below and edited for clarity:
Prop master Stan Gilbert: "We did our jobs for you, the least you guys could do is be straight with us!!!"
Location scout Scottie Brower: "I'm extremely disappointed in so many ways and wondering why our Bond company — Film Finances, Inc. — has not stepped in to insure payroll, site fees, and other expenses incurred by Acme Kick Productions, LLC."
Ami Francis, VP of Production, Film Finances, Inc: "Unfortunately, the completion bond has not closed yet on this project. Unless and until that happens we have no power or authority to do anything."
Director John Stockwell: "Hey Everyone, first of all I apologize for this entire situation. I'm not sure who said "we're bonded" but as I said on the last night of shooting for a variety of reasons (last minute switch of bond companies/accelerated start because of losing Dave Bautista) the bond was NOT CLOSED and until that happened the bank financing would not flow. The bond company was still requiring things like Van Damme's medical exam, signed contracts from various parties etc. before the bond would close. Although I am not a party to the inner workings I believe the best shot we all have of getting paid and the movie completed is to have the bond close and financing to flow. My understanding is that to this point Ted Field himself has been keeping the funding going. I think we all did good work in New Orleans and I believe/hope that it would be incomprehensible for producers and bond company to not get everything in order and financing flowing. I have never been in a situation like this before and hope it will be resolved quickly."
Stockwell: "Not sure what was or wasn't said but it's not uncommon for movies to start without bond closed as bond companies like to mitigate their risk by seeing the movie up and running before they close.
Production accountant Scott Willman: "As Production Accountant of Kickboxer please be notified that as of 12 PM PST Friday, Dec 19th, Radar Pictures and Ted Field, Dimitri Logothetis and Nicki Celozzi failed to meet the payroll company demands of funding payroll. Your paychecks were voided and all timecards are being returned to production. This includes crew and cast. I have repeatedly requested all leadership of Kickboxer including counsel to broadcast this announcement to the crew but that request has not been made and I just wanted everyone to know the truth. So what's next Ted?"
Producer Dimitri Logothetis: "Now I will make a suggestion to some, not all of you. Unfortunately, there have been some thefts of goods, as well as some office checks with my signature, which a few people attempted to cash at our bank, without our knowledge or authority. Besides being illegal, this is a federal crime. I highly suggest that you keep your emotions under control,  and refrain from any criminal activity, this will only come back to haunt you. I would also suggest keeping away from the slanderous comments. They will not help."
Woods: " Bearer of Bad News 🙁 Just so everyone will know… CAPS Payroll is closed until Jan. 5, 2015. With that being said, we aren't getting paid before that."