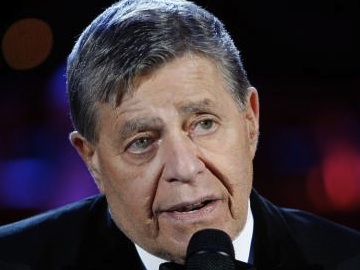 Jerry Lewis interrupted Starz CEO Chris Albrecht's lengthy address to reporters at the network's Television Critics Association session on Friday by flinging open the door from the green room and yelling with mock impatience, "Hey Chris, I'm going to have to shave again, for chrissakes!"
Also read: Jerry Lewis Rushed to Hospital Before Australia Show
The comedy legend was on hand to tout Starz sister network Encore's upcoming original documentary "Method to the Madness of Jerry Lewis," a reflection on his career that features the likes of Quentin Tarantino, Steven Spielberg and Jerry Seinfeld talking about what Lewis's work meant to them.
The surprisingly lucid 85-year-old, who recently was hospitalized before an appearance in Australia, fielded questions from the gaggle of television reporters on hand at the Beverly Hilton and railed more than once about the sorry state of television, such as when he referred to "American Idol" contestants as "McDonald's wipeouts."
But Lewis killed by taking actually funny old-school jabs at the sometimes tepid laughter following some of his funny jokes.
After one of his quips fell flat, he said, "I feel like I'm working to the Arabs, for chrissakes."
"We've got a contingent over there, it looks like they're ready for the funeral," he added later.
And then there was this gem: "Hi, folks, the war is over!"
It wasn't all heckling of reporters zombie-fied by the many TCA panel discussions, however. Lewis addressed a question that this year might be his last as host of the Muscular Dystrophy Association telethon. "Remember when the New York Times printed 'Dewey Wins'?" he said. "I rest my case. Always read what gets printed twice."
He did say cryptically, though, that on Sept. 5, the day after the telethon, he'll hold a press conference to "address the future, not the past."
Lewis had trouble hearing questions at times, but that physical issue only gave him the chance to offer an assessment of his current state of mind.
"I'd like to remind you all that I'm 85," he said. "The legs aren't doing what they used to. My heart begs them to but is denied. I can't remember what I was going to say before I got up here. But I'm the happiest old man you ever saw in your life."