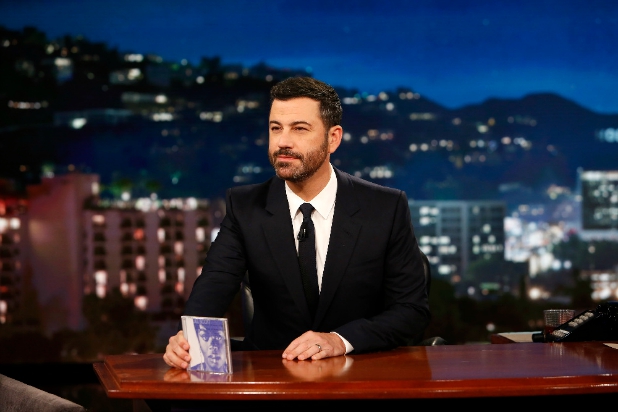 "Jimmy Kimmel Live" bested "The Late Show with Stephen Colbert" in the ratings for the first time on Thursday night, in addition to almost tying "The Tonight Show Starring Jimmy Fallon."
Kimmel scored a 0.9 rating/5 share in the advertiser coveted adults 18-49 demographic, while Colbert got a 0.7/5. Fallon's show got a 1.0/5.
Colbert's "Late Show" was delayed due to CBS's NFL Thursday night football overrun so aired later than its regular 11:30 p.m. timeslot. While Kimmel enjoyed a strong boost thanks his lead-in — ABC's return of Shondaland's #TGIT lineup which includes "Grey's Anatomy," "Scandal" and "How to Get Away With Murder."  Additionally, Shonda Rhimes herself appeared as Kimmel's guest following the highly anticipated premieres of the three shows.
See video: Shonda Rhimes Reveals Whether ABC Has Ever Told Her 'No,' #TGIT Premiere Thoughts
Kimmel also hosted Dave Salmoni and Jill Scott, as well wrapping up his week of Mean Tweets with celebrities like George Clooney and Halle Berry reading the worst things internet trolls could throw at them.
The NFL match up between the Washington Redskins and the New York Giants lead in to Colbert, who had guests on like Maria Shriver,  Jim Gaffigan, and Archbishop Thomas Wenski.
See video: Joseph Gordon-Levitt, Jimmy Fallon's Barbershop Quartet Sing Rihanna's 'Bitch Better Have My Money'
Fallon hosted Joseph Gordon-Levitt singing a barbershop quartet version of Rihanna's "Bitch Better Have My Money," and interviewed Chris Hardwick.



Fall TV Preview: 126 New and Returning Shows Premiere Dates
Hulu

Getty Images

FXX

FXX

Netflix

Syfy

Syfy

HBO

HBO

ABC

Hulu

Getty Images

FX

Comedy Central

Comedy Central

BBC America

NBC

Fox

CBS

CBS

Fox

CBS

CBS

ABC

NBC

Fox

CBS

ABC

ABC

CBS

CBS

CBS

Fox

NBC

ABC

ABC

Fox

NBC

ABC

ABC

ABC

NBC

ABC

ABC

NBC

ABC

ABC

CBS

CBS

CBS

Fox

Fox

ABC

CBS

Fox

Fox

ABC

Fox

ABC

Comedy Central

ABC

Fox

Fox

ABC

CBS

CBS

NBC

Fox

NBC

Fox

IFC

ABC

NBC

CBS

HBO

Showtime

CBS

CBS

Showtime

CW

CW

MTV

Hulu

CW

CW

FX

CW

CW

Syfy

truTV

Amazon

CW

NBC

BBC America

AMC

AMC

CW

CW

FX

WGN

NBC

DirecTV

Comedy Central

Cinemax

NBC

USA

Pivot

Getty Images

Netflix

Starz

CBS

ABC

NBC

Starz

TNT

TNT

CBS

CBS

CBS

Getty Images

Fox

Starz

NBC

USA

AMC

Amazon
1 of 128
TheWrap's essential guide to all of the 2015 TV season's anticipated returns and newcomers