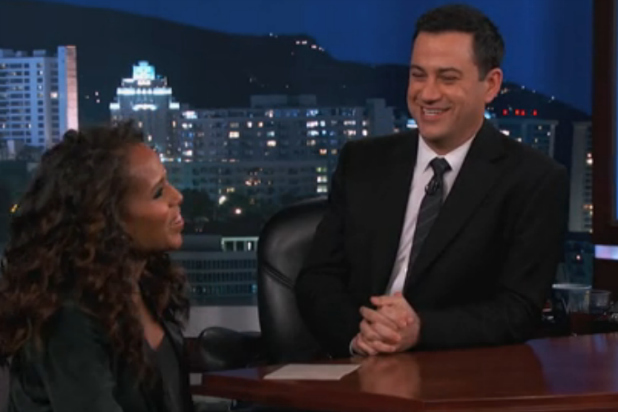 Look out Fallon, there's still that other Jimmy at 11:35 p.m — and he's coming for you.
On Thursday, "Jimmy Kimmel Live" had its second-most-watched telecast ever with a "Scandal" themed episode, posting the late night talk show's best numbers yet versus newcomer Jimmy Fallon's "Tonight Show," narrowing the gap.
See video: Jimmy Kimmel Mocks Los Angeles TV Reporters' Ridiculous Reaction to Rain
The ABC property increased day-to-day by 45 percent in total viewers, reeling in 3.6 million vs. the prior night's 2.5 million. The only night in "Kimmel" history with more viewers was Matt Damon's takeover on Jan. 24, 2013.
"The Tonight Show" brought in 4.5 million viewers overall on its ninth night Thursday.
See video: Jimmy Kimmel Reminds Viewers Just How Sensitive Los Angeles Reporters Are To 'Cold' Weather 
While he hasn't yet been able to trump the new kid on the block, "Kimmel" outperformed the old one. ABC's 11:35 offering topped CBS' "The Late Show with David Letterman" by 31 percent in total viewers (3.6 million vs. 2.7 million) and by 75 percent in the key demo (1.2 million vs. 693,000).
In the advertiser-sought adults 18-49 demographic, "Kimmel" jumped 94 percent day-to-day in viewers (1.2 million Thursday vs. 625,000 Wednesday).
See video: Scandal' Cast Creates Mexican Spoof Version With Jimmy Kimmel
In ratings, Kimmel had a 1.0 to Fallon's 1.4 and Letterman's 0.6.
"Live's" "Scandal Thursday" featured stars of the ABC drama Kerry Washington, Michael Strahan and musical guest Juicy J, featuring Wiz Khalifa.